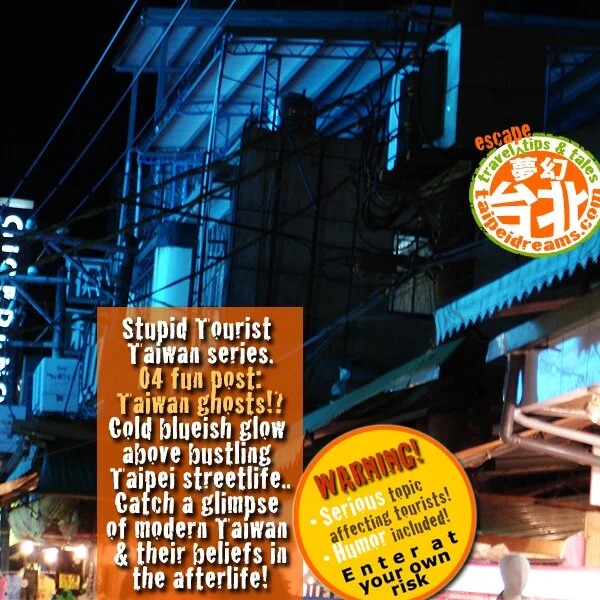 Taiwan culture in ghosts?
You may not believe it like they do, or as much as they do.
But know this, visitors to Taiwan: The Taiwanese believe in life after dead – deep in their culture.
Like most Chinese communities, your Taiwanese hosts hold a strong respect for their dead, the afterlife – and the spirits.
Do not be perturbed. As a tourist in Taiwan, are you aware of these key beliefs?
Culture shock quiz: Taiwan ghosts!?
Which of these ideas are true, as far as the Taiwanese believes?
1. Things related to dying or death are taboo, to be avoided among Taiwan folks.
2. Writing someone's name in red ink is auspicious.
3. The 7th month or Hungry Ghost festival is widely (and loudly!) celebrated among the many colourful festivals in the island.
4. Fengshui (ancient Chinese geomancy) is still practised in modern Taipei!
5. In cosmopolitan cities of Taipei and Kaohsiung (Gaoxiong), such beliefs and superstitions are hardly seen, felt or practised.
Smart traveler answers
Ideas 1, 3 and 4 are true. 2 and 5 are false!
Smart tourist must-know
The Taiwanese has a strong belief in things spiritual and the afterlife!
Believing in the spiritual realm, respecting their dead, taking precautions to draw in good luck while warding off the bad – and even, celebrating a month-long festival relating to the spirits!
As visitors to the island, what are some aspects of these beliefs you will encounter?

Note: This may not be about your beliefs or whether you are being superstitious.

It is much about being aware of Taiwan culture you are touring; not to unwittingly encroach on beliefs and customs so different!
More smart traveler humor (for laughing only!)
Do not write a Taiwanese friend's name in red ink!
Writing Chinese names in red is a big no-no! Red ink is used for the death and the deceased.
Watch out: What other taboo stuff relating to this culture in the spirits do you avoid?
Taipei or other cities are equally thick in their beliefs!
You may see and meet more elaborate expressions of the Taiwanese beliefs in the rural, less modern areas.
Yet throughout the island – in cities or countryside – the locals and their culture in the supernatural are visible and extensive.
Dear Taiwan travelers,
Do you fear the unknown, tourists?
Now you see, a belief in the unseen is so much a part of Taiwan's religious and cultural backgrounds.
What will be other parts of this 'ghost' culture that might shock you in your touring among Taiwanese and their lifestyles?
Back to intro page for more Smart Tourists Taiwan fun mini posts!