A window for your Taipei 2 or 3-stars motel or hotel room?
Why should you a guest in touring Taiwan even bother?
Ever thought about why it may be important that you stay in a Taiwan motel with window? Or be given a Taiwan hotel suite with a window?
The lot of 2 to 3-stars rated hotels or motels in say, Taipei city are located in expensive, competitive space.

Hotels may be built in between buildings along streets. In each periodic renovation, hotel rooms are added from every possible (and allowable) corner of the existing motel.

To maximise space, bringing in more hotel guests and hence earnings!

So when you stay in rooms in such Taiwan motels and hotels, what do you get?
And let that be a real window in your Taiwan hotel please..
• A window that preferably can be opened.

• One that opens to the exterior.

• Or opens to a view of the exterior. Not an internal wall of any kind!
In cramped Taipei city, as in other crowded Taiwanese cities, the views from the hotel or motel window will usually be nothing to shout about.
So as a guest, you would best be staying in a hotel suite with a window. Why?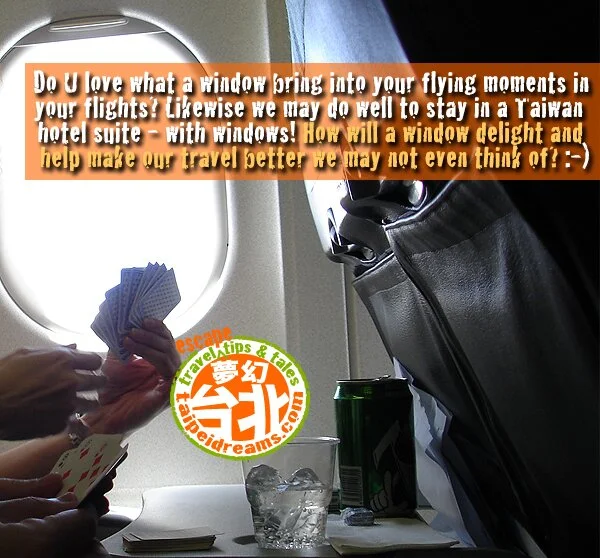 1. Brightness!
Let there be light!
Even in some bigger hotels (rated 4-stars and above), there may not be large windows or enough of them to let light into your hotel suite.
For your leisure or business activities, living and relaxing (or working) in a Taiwan hotel suite with low natural light can get depressing after a while.
Light from a hotel window can brighten up and bring cheer to your hotel stay!
2. Claustrophobia! *
Feeling confined and squeezed, hotel guest?
Although you will be out for the day touring Taiwan, and may only be staying in your Taiwan hotel room during your overnight rest, there is no reason for you to feel all cramped and tight-spaced in those precious short hours in your hotel room!
If you have ever experienced it, you may know that some hotel room layout and interior does not give the hotel guest much space to move around.
And not having a window to "expand" the sense of space can really make the hotel room looking confined – and the hotel guests feeling a morbid sense of claustrophobia!
* Claustrophobia is an extreme fear of confined spaces.
3. Fresh air!
Stay fresh to travel Taiwan more!
Ever experience a hotel room that smells and feels of
• Stale air?
• Cigarette smoke?
• Mildew?
• Even fresh paint or chemical work?
Why not open the hotel room window – bring in sheer freshness?
Keep the air in the hotel suite fresh and you will stay fresh, to meet whatever challenges planned and unplanned for your traveling days!
1 Taipei hotel 2 window styles
We stayed in the same hotel for 2 of our Taipei tours.
In our first Taipei hotel stay, the "couple suite" faced the road and has a window with thick acrylic layer that cannot be opened.
On the second stay, the same Taipei hotel suite was a bigger space for 4 persons. With a window that opened to the back of the hotel.
So keep in mind the importance of a window when you book your Taipei motel or Taiwan hotel!