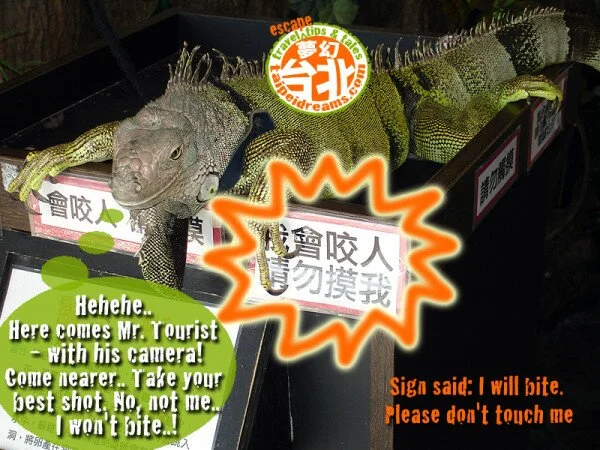 Traveler, have you ever..
Taken a picture when touring Taiwan, then on closer check — you discovered something odd about it?
My fingers gribbed the camera gingerly. Inching it to the fierce-looking full-grown iguana, I was apprehensive.
What I wanted: Capture Mr Iguana – a closeup snapshot!

What I did not want:

1. The creature suddenly lungeing at me;
2. Me dropping my camera from the attack!

My hands were trembling slightly.

I was tired (and edgy!) on this second day of touring Taipei!
My wife and I were strolling the sights along Danshui waterfront when we spotted this themed museum of sort.
Let us check out the exhibits, and get some air conditioning respite from the scorching Danshui sun!
What is funny about this photo?
You can't see my shaky fingers. But can you spot the left front claws of Mr. Iguana?
Where: Amazon strange wildlife themed museum, Danshui waterfront, New Taipei City.
What: Pet iguana sat at museum entrance to draw curious visitors like me..
Check picture: What were the signs saying?
"Will bite." said the sign on right side of Mr. Iguana.
Click to enlarge the picture: Now see the sign on the left.
Does it look like Mr. Iguana was somehow shielding the "I" from the "I will bite.." sign beneath his left claws?
"Will bite, yes.. But me? I won't bite. Not me.."