Unwind and luxuriate in your Taiwan hotel!
Is this your first experience as a guest in a Taiwan hotel? Or are you staying in a Taiwan hotel new to you?
What are some features of comfort you can expect to enjoy in one of the many Taiwan 2-stars or 3-stars hotels?

Check out this list of Taiwan hotel fun comforts and even touches of luxury to make your stay in Taipei, Taiwan more than a safe, comfortable and memorable one!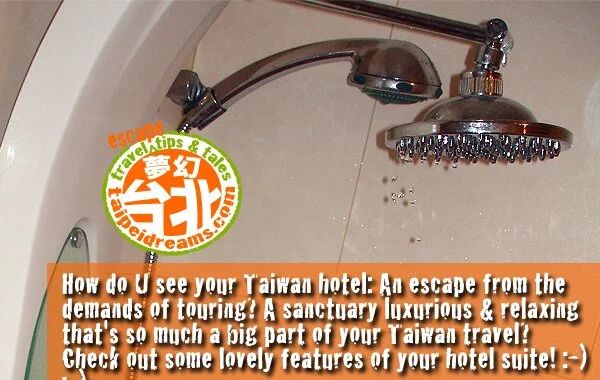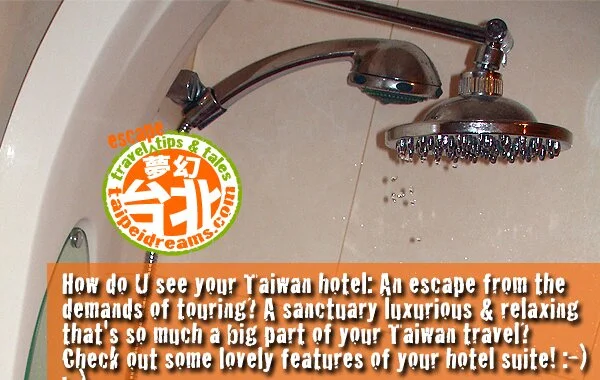 Taiwan hotel little luxuries for you Taiwan guests
Check with the Taiwan hotel you're staying in.
Of course the higher class of 4 to 5 stars Taiwan hotels will have more extravagance for their guests. Imagine some standard facilities such as a gym, sauna, office room and whatsnot!
Get little luxuries as your Taiwan hotel provides:
1. A compact room.

With air-conditioning or heater.

A telephone and for some – an attached hair dryer.

2. An en-suite bathroom.

Equipped with normal to jacuzzi bathtub or shower panel (like the rain shower panel shown in picture)!

3. Servings of beverages mix.

Main beverages are bottled water, satchets of tea and coffee.

There will also be a hot water appliance in hotel room, or hot water facility in lobby for all hotel guests.

4. Regular supply of toiletries.

Expect to find essentials like toothbrush, toothpaste mini tube, soap.

Also expect to be pampered with surprises like shaver, shower cap and even a condom! *

5. Cable programmes on large-sized television.

Flat-screen television whether plasma or LCD type.

Wait till you turn on the tv remote and explore the tens of channels!

Caution: Adult program are often included.

Seek help from your Taiwan hotel if you wish to prevent younger travelers from accessing the adult channels.

6. Free or pay-to-use internet connectivity.

Check with the hotel for your internet connectivity needs.

I accessed the net during my Taipei hotel stay – and found it amazingly speedy! Hooray!

7. Breakfast.

This is either provided by hotel or using coupon from a restaurant nearby.

You get simple breakfast fare of local Taiwanese or Chinese or western cuisine. See a Taipei hotel breakfast review from EatTaipei.com..

8. English-friendly (or at least they will try hard) hotel staff.

Usually the front desk and managerial personnel are minimally conversant in basic English.

Or the staff may refer you to more competent help if needed..
* Fill the 'rubber toiletry' with water.
Use this free 'balloon' as toy for playing in the bathtub. Make this 'rubber ball' as large as you possibly can or want!
Excited yet? Enjoy a great stay in your Taiwan hotel!