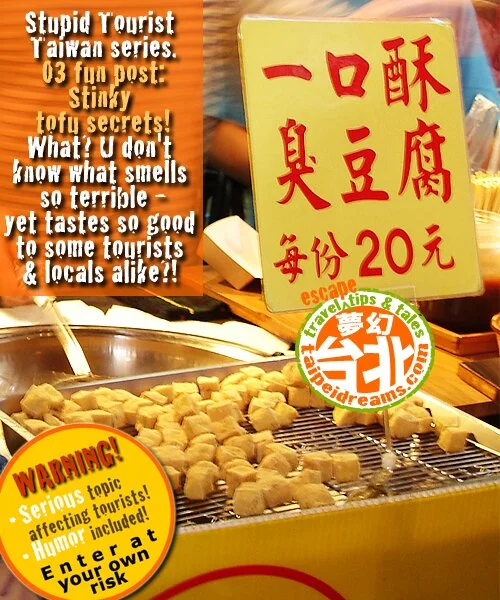 Visitors in Taiwan, beware the stinky tofu!
Known as chou dou fu (in hanyu pinyin), this infamous soy bean curd – fermented and foul – will surprise and shock you tourists!
Before you meet this favourite Taiwanese food, you will smell it! From a few night market stalls away or a few blocks down the busy Taipei neighbourhood.
Uncover its secrets with this quiz now!
Pick the correct answer to each of these questions:
1. How bad is the stench of stinky tofu?
A. Some said as bad as rotten garbage.

B. Some said as horrendous as overnight sewage.

C. Some said as fragrant as durian or blue cheese!
2. How is stinky tofu cooked and eaten?
A. Eat with pickled veggies to ease the greasiness of deep-fried stinky tofu.

B. Pop freeze-dried stinky tofu cubes into mouth – fresh from the freezer!

C. Double the intensity: Enjoy stinky tofu in spicy hot pot soup!
3. What is the legend how stinky tofu started?
A. A poor scholar chanced upon his preserved tofu turned bad yet tasty!

B. Ancient Chinese rebel soldier dropped his tofu ration into latrine – you imagine the rest..

C. Unscrupulous vendor used inferior ingredients in making tofu and made an unexpected breakthrough!
Smart tourist must-know

Like or hate it, stinky tofu is a local food distinct and interesting in Taipei, Taiwan.

Its uniqueness will certainly add a level of intensity to you tasting Taiwan food in the restaurants and Taiwanese streets — and experiencing the island!
Smart traveler answers
Question 1: All 3 answers are correct. You will know the answer best when you smell stinky tofu!

Question 2: A and C are correct answers. Freeze-dried stinky tofu? Is my imagination getting the better of me?!

Question 3: A is the correct story how stinky tofu started!
Dear Taiwan travelers,
Never say you don't know about stinky tofu anymore!
As a friend or foe of the fermented tofu, you now know its secrets and live to warn others about the stinker!
Back to intro page for more Smart Tourists Taiwan fun mini posts!