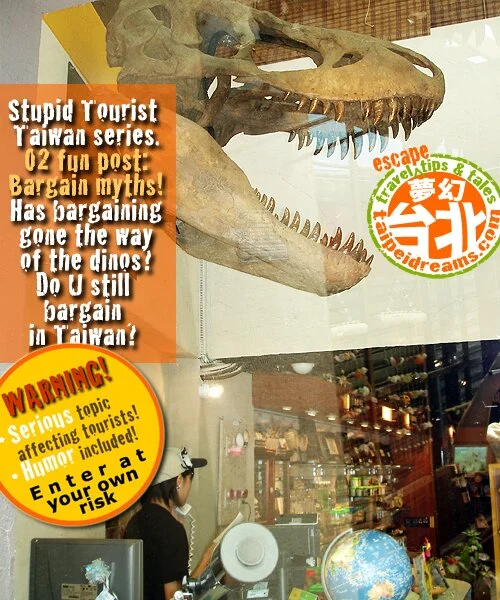 To bargain or not to bargain in Taiwan?
Before you hunt down and bag your shopping home from Taiwan, check this quiz to see how much you know about bargaining myths!
Bargaining myths in Taiwan quiz
Which of these statements is true. Which is false?
1. A handful of departmental stores are designated "government-approved shopping centers" giving reliable prices and quality goods!

2. Generally there is little to no need for bargaining at most shopping in Taiwan – at least in those shopping haunts the tourists usually go!

3. Night market businesses in – shops or streets – are open to hard bargaining!

4. When you got a deal sounding or looking too good to be true, it is because you had been a fantastic bargainer!
Smart traveler answers
Ideas 1 and 2 are true. 3 and 4 are false!
Smart tourist must-know

In these days, there is little need to bargain in most shopping spots in Taipei, Taiwan!

Most stuff are priced and tagged; signs are displayed readily and clearly. Wherever you can find a bargain from: Boutiques, shopping districts (like Ximending), departmental stores, shops and stalls in night markets too!
More smart traveler humor (for laughing only!)
Night markets and street bazaars do not mean an atmosphere friendly to haggling and negotiating over prices! Bargain at your own risk!

A deal that is too good to be true probably is!
Be assured your bargaining prowess has little to do with the deal. Rather, it is the shrewd vendor and his selling schemes at play here!

Dear Taiwan travelers,

So do you still bargain when shopping in Taiwan?
Sure you can! What are some good tips in having fun bargaining and enjoying your shopping — and not feeling like a tourist-shopper at the mercy of local vendors?

Back to intro page for more Smart Tourists Taiwan fun mini posts!