STOP! Before you ask us..
WE ARE NOT related to Taiwan Visitor's Association.
WE DO NOT know their latest freebies or brochures. Thank you.
Are you traveling to Taiwan soon?
Get your free goodies before you go, traveler!
Taiwan Visitor Association would like to show their appreciation and give you a freebie.

If you are touring Taiwan as:

• A free and easy traveler, and;
• You have at least a 1-night stay at a paid accommodation;
• You have proof of your individual air ticket..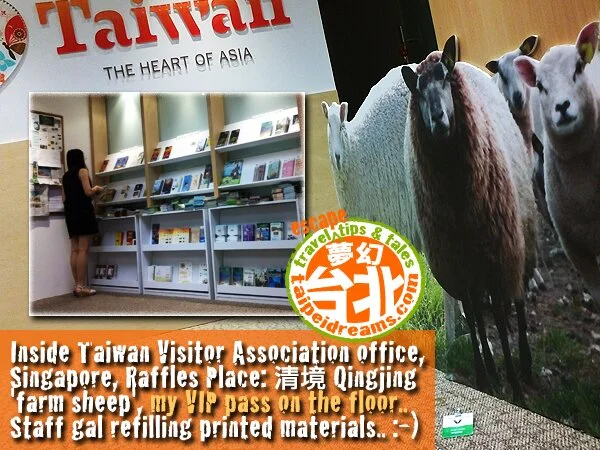 Please note, dear traveler:
Although this post is about visiting Taiwan Visitor Association office Singapore, you travelers from elsewhere can see how making a trip to your local Taiwan Tourism office may be helpful as a task you do before touring Taiwan (see post linked).
Visit your local Taiwan Visitor Association office to gather information about Taiwan, and collect freebie if available.
This week (March 2012), I had brought a friend visiting Taiwan (in a week's time), to collect his freebie.
The Singapore office has recently moved into this new location so much more convenient, cheerfully bright and lively!
Location of TVA Singapore
Taiwan Visitor Association, Singapore. See Chevron House in Google map..
MRT station: Raffles Place MRT station;
Building: Chevron House;
Address: 30 Raffles Place, #10-01, Chevron House, Singapore 048622;
Unit: #10-01;
Telephone: 65-6223-6546/7;
Email: [email protected]
Freebie you get for touring Taiwan
A different freebie is offered every new quarter or season!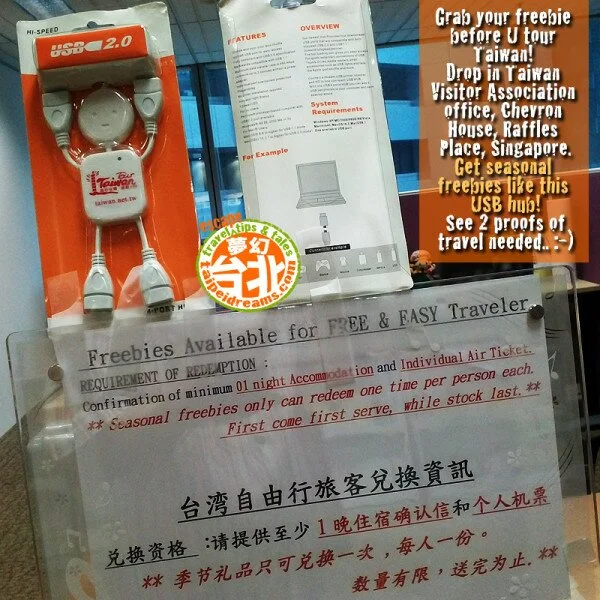 Popular and previously awarded freebies include EasyCard stored-valued Taipei MRT card, Taiwan snacks vouchers, hotspring visit voucher..
6 easy direction steps:
1. Look for Chevron House; once out of Raffles Place MRT station.

2. Spot the long escalator leading from ground to third level. Ride it!

3. Get VIP pass at office-security entrance when you exchange your identity card (or passport for non-locals?).

4. Enter gate using pass; take speedy lift up to TVA office.

5. In TVA office; collect freebie. Customer desk lady will guide you. Of course, bring your proofs of travel required as shown in the picture!

6. Exit gate with your goodies. Return pass for your identification document!
Tips to make best use of your visit
Do more fun things for your Taiwan trip, than just collecting freebie!
1. Collect freebie. Follow steps here.

2. Collect info.
Take time grab as much printed info as you can handle and use please from the office. See pic in first photo.

3. Change currency into Taiwan Dollar.
Where? Next door at The Arcade building.

Take escalator to second floor. See the queues at various money-changers. Compare rates from their rate boards and buy your Taiwan Dollar!

In Singapore, The Arcade is one of the best places to change your currency into Taiwan Dollar. You get the telltale queues, compare competitive rates from a handful of vendors – all under one roof!
Be rewarded for touring Taiwan free and easy style!
REMINDER: TaipeiDreams is NOT Taiwan Visitor Association, NOR representing TVA.

This post is about TVA Singapore. You may contact the TVA office (if they have) in your country to collect your Taiwan travel freebies and materials. 🙂
Which Taiwan hotel for your Taiwan tour? Explore now: