2 important tips for your Taiwan vacation this year start!
Do not let this cold and wet weather season disrupt your Taiwan tour!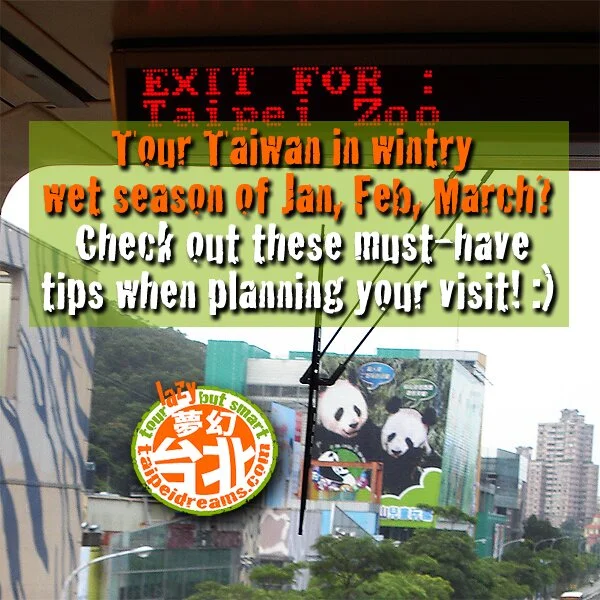 1. How to manage Taiwan cold and wet season!
It is February winter cold and wet in Taiwan now.
Spring will only arrive in (late) March, slowly and gradually.
Cold mountains, coasts and sea!
When you tour the mountainous regions, the coastal areas, expect drastic drop in temperature! And places inundated with heavy rain and its effects!

Over intensive wet weather, routes may be dangerous to travel in. Landslides and soil erosion are consequent effects on the places you plan to visit.

Travel Taiwan warm and dry!
Be sure you travel with suitable rain gear, such as umbrella, rain and windproof jacket with hood..
2. How to manage when Taiwan gets dark early!
During winter, the day gets dark early in Taiwan.
Finish touring before dark!
When you tour the countryside and rural areas away from the cities, be sure to leave early. Before dusk falls and tour activities lessen and visitors dwindle away.

Check transport schedules!
Or if you fear it will turn dark suddenly, simply leave a tour spot before, say, 4:30PM.

Check the operating hours!
Of the places you visit, especially outdoor venues like cultural sites, theme parks, scenic spots..
Always remember when you tour in this climate..
1. Update weather conditions from local operators!
The Taiwanese service providers you tour with—such as cabbie tour guides, tour organisers, transport operators, may best advise you on your touring activities in view of the wildly rainy season and its effects..

2. Plan indoor tour for weather foul and wet!
In your itinerary, plan places you and your travelers can visit and activities to enjoy—indoors! Good ideas include museums, indoor parks, shopping centres, book stores, restaurants and more..
Happy touring Taiwan—in spite of the wet and wild season!