Travel Taiwan in her popular season!
When you tour the island in January, February, March – you are experiencing Taiwan in her winter solstice and spring festive season!

So what do you watch out for when touring Taiwan as the year starts? What are smart travel tips to see you happily touring this amazing season?

Let me share with you these 6 tips – quick and essential: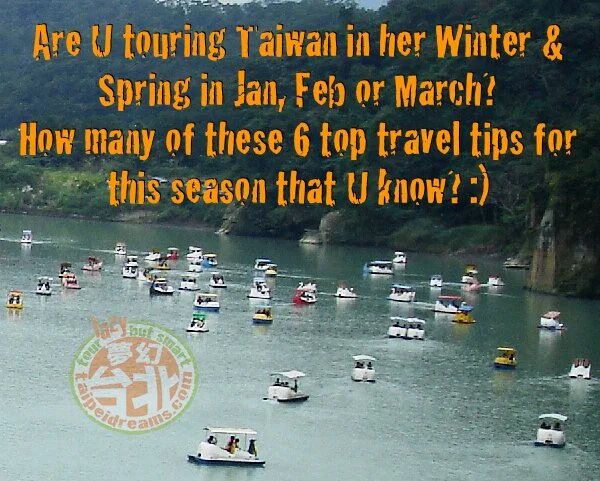 1. You have a shorter day to tour!
In winter solstice, the day gets dark rapidly right after 5PM. That means you have less hours to tour in the day.
• Check the operating hours of places you want to visit. Maximise your visit. Leave early before dark!
• Plan tour activities for evening: Visit the night markets, dine in restaurants, throng places with evening vibe such as Ximending, shopping zones.
2. You want to manage rain!
In these months, the sun may peek through the clouds occasionally. Be sure however: It will rain, and rain!
• Expect long and heavy raining. Expect to tour on despite the wet weather.
• Plan and tour indoor spaces like museums, bookstores, shopping complexes etc..
3. You want to travel in cold!
It will be cool to cold. Generally cold to very cold. The higher zones are reported to be in single-digit cold!
• Should a cold front arrives, the temperature could drop even further. Check Taiwan weather now.
• Visitors from Singapore and hot humid South East Asia may delight in the chill. So enjoy!
• If you tour the highlands and mountains, gloves and ear mittens will be needed – especially for the young and elderly.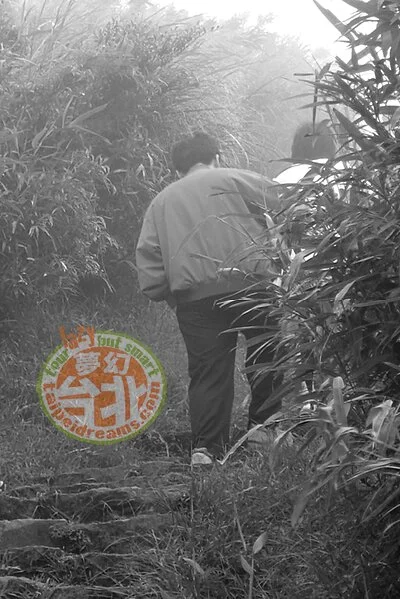 4. You want to dress for Taiwan winter!
Layer your winter wear. Pile on layers of clothes so you stay warm inside while still look good on the outside.
• When you feel comfortable enough, you can remove your outer jacket and still remain warm.
• Stay cosy yet enjoying the chill – try these layering tips in pictures by Wikihow.
• Sleep warm and comfortably. Long sleeves and pants is recommended when you rest in the hotel.
5. You want to stay dry and keep warm!
To tour while staying dry and warm, don't forget 2 travel items:
1. Rain-proof outer wear!
• On the outermost layer, a rainproof windbreaker/ jacket will be great when you tour the outdoors. Thick to keep you warm. Waterproof to keep rain/ wetness out.

2. All-useful umbrella!
• Don't forget to use the all-useful umbrella – yes, even when you come from a place which loves rain.
• When it rains and shelter is not quickly accessible, simply use an umbrella. No need to risk getting wet, chilly..
• A simple UV umbrella will also limit your exposure to UV damage (yes, in winter too!)
6. You want to avoid or enjoy Chinese New Year!
In 2015, Chinese New Year (Lunar New Year or Spring festival) season will be from 19 February to 5 March 2015.
• Generally, expect pre-season festivities weeks before CNY in traditional street like Dihua market, Taipei City.
• Taipei City will be quiet and much less crowded in only this time of the year – at least for first 2 days of CNY!
• Away from Taipei, expect congestion as locals travel to and from hometowns in all parts of Taiwan for CNY activities.