Must-have tips to plan your Taiwan itinerary this year end!
Are you touring Taiwan during late October to December?
In this popular travel season, there will be things you tourists will want and need to note in planning your Taiwan holiday!

What are some important ideas you may want to specially plan and include, tourists?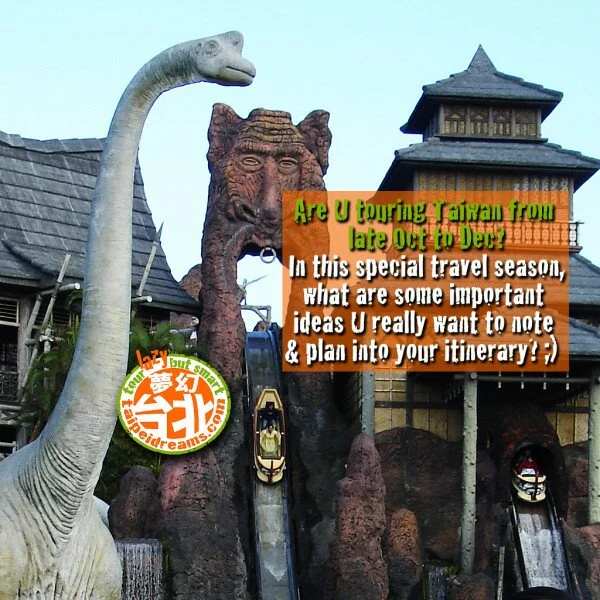 Here are 2 travel notes for your Taiwan year end itinerary!
1. Your Taiwan travel day will end early!
Every day from late October onwards!
In the winter season, the skies start turning dark as early as after 5:00PM.
What does this mean to your Taiwan travel?
• It will be dark; dusk arrives earlier – than we expect at non-winter days.

• You have LESS hours to tour Taiwan in the day.

• Closing hours are early. Tour spots such as parks (themed parks like Leofoo Village, Yehliu Ocean World and etc) will close earlier than their usual operating hours.
What do you do, tourist?
• Plan where you visit during the day in your tour.

• Check closing hours for parks, sites, you are visiting.

• Smarter tip: Always tour with a small flashlight on you.
2. Plan to tour Taiwan – indoors!
Winter in Taiwan is from November to February.
The year end months will thus be wintry cool to cold months!
What does this mean to your Taiwan travel?
• It will rain. Rain unexpectedly. Rain heavily. Rain long.

• It will be damp, wet, rainy – weather you may not wish or be able to tour outdoor in.
What do you do, tourist?
• Plan itinerary covering places indoors. Like shopping in cities, visiting museums and other tourist spots – sheltered and indoors.

• Plan touring activities for indoors. Such as a family trip at the 24-hour mega Eslite bookstore, Taipei City.

• In Taiwan, stay updated daily with the day's weather forecast!
Tourists, have you considered these ideas when planning your Taiwan year end travel itinerary?