"My girlfriend and I are visiting Jiufen Village. We'll like to spend time in one of the tea houses at Jiufen old street enjoying tea and mountain views."

"Which are popular Jiufen tea houses you'll suggest? Thanks."
Tea. Snacks. Scenery?
A friend planning his Taiwan tour emailed me such a question on Jiufen tea house.
In my Taipei honeymoon, my wife and I have visited Jiufen Village. We have seen the numerous tea houses though we had not had tea or ate in any.
So I went researching for distinctive tea houses in Jiufen noteworthy to recommend.
So here are 3 Jiufen tea houses picks for you, dear travelers!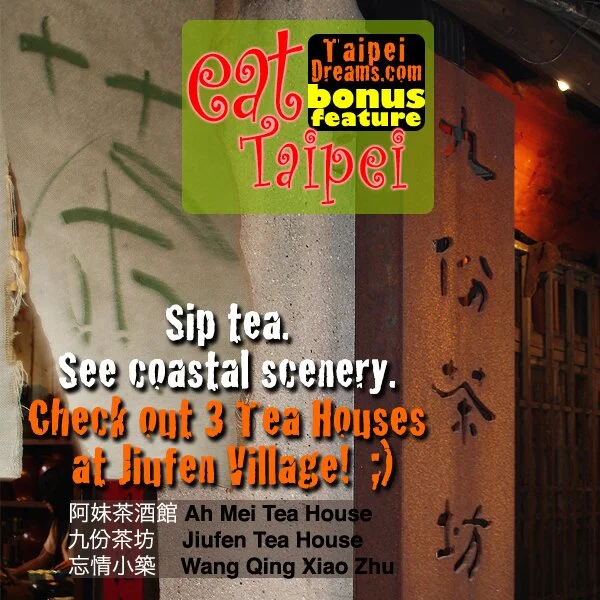 3 Jiufen tea houses to sip tea, snack, soak in the views!
Check out 3 tea houses among the many at Jiufen tourist village.
Chinese names of tea houses are shown in picture:
Ah Mei Tea House
Special features:
• In touristy part of Jiufen village;
• Interior with ambient creepy masks;
• Rumored to have inspired Miyazaki's animation classic Spirited Away.
Jiufen Tea House
Special features:
• Thick and rich Chinese antique interior;
• Recently renovated from said 100-years-old establishment;
• Patio with views of ocean..
Wang Qing Xiao Zhu
Special features:
• Near top, end of street;
• Much less commercialized and crowded;
• Rich wood mood interior..
1. I have not visited any of these Jiufen tea houses, nor do I know them to be promoting them here.

2. These are general recommendations done from the best of my research.

3. These 3 Jiufen tea houses are NOT listed in order of popularity! Only listed alphabetically by their names.

But be sure: I will visit one or all of these tea houses the next time I tour Jiufen!
In your special moments high amidst scenic Jiufen, hope you remember this post! Enjoy!