Chua Kheng and family's 9 days 8 nights itinerary touring Taiwan
Chua Kheng from Singapore, shares from her tour of Taiwan with her family; traveling with elderly and kids.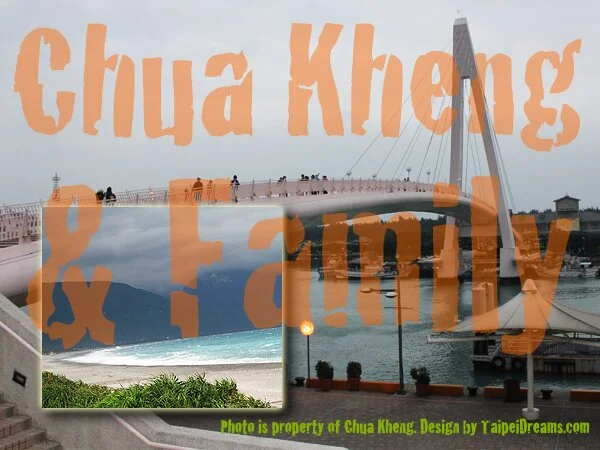 Enjoy this Taiwan travel by a friend of TaipeiDreams:

1. See other travelers tour Taiwan in their itineraries.
Best still, experience Taiwan for yourself and those you love!

2. Share your Taiwan trip like them?
It is easy! Here's how to share.

3. Savour Taiwan in fun Star Rating!
This visitor has rated his/ her Taiwan travel from 1 to 5 stars: 1 for least liked; 5 for pure delight!
Day 1 – Taipei
11/12/11 Sunday
1. Flight from Singapore Changi Airport to Taipei Taoyuan Terminal 1 by Cathay Pacific.
2. Took cab to Dandy Hotel Tianjin Branch, boutique hotel.
We loved this hotel. Very polite and helpful receptionists!
Day 2 – Taipei
12/12/11 Monday
Privately organised tour with Taiwanese cab.
1. Chiang Kai Shek Memorial Hall.
[rating: 3/5]
2. Long Shan temple, Wanhua.
[rating: 3/5]
3. Bei Tou hot spring.
[rating: 3/5]
My very first time stripping naked for the public hot spring!
4. Dan Shui, Fisherman's Wharf.
[rating: 3/5]
5. Shi Lin night market.
[rating: 3/5]
Day 3 – New Taipei City and Keelung
13/12/11 Tuesday
Private cab tour..
1. Ping Xi railway branch line.
[rating: 4/5]
Wonderful experience releasing sky lantern at Pingxi! We wrote our wishes on the lantern in Chinese, but quickly switched to English — when we saw how wanting our Chinese was!
2. Yeh Liu Geological Park.
[rating: 3/5]
3. Jiu Fen village.
[rating: 4/5]
Rainy Monday at Jiufen village. We met massive jams, tourist crowds and stayed for an hour only. I would love to visit Jiufen again!
4. Keelung Miaokou night market.
[rating: 3/5]
Day 4 – Yilan (ilan)
14/12/11 Wednesday
Private cab travel..
1. National Center for Traditional Arts, Yilan.
[rating: 3/5]
2.Luodong night market.
[rating: 3/5]
3. Stay at Sunday Home minsu.
[rating: 5/5]
Our stay at Sunday Home minsu was the highlight at Yilan! Beautiful homestay with hospitable hosts and best breakfast for our whole tour!
Day 5 – Hualien
15/12/11 Thursday
1. Took a railway train to Hualien.
2. Private cab tour to Taroko National Park.
[rating: 4/5]
At Taroko Park, we did not cover many of the trails with the elderly and kids along. However, our humorous cabbie-tour guide made ours a delightful trip!
3. Checked into Hotel Bayview.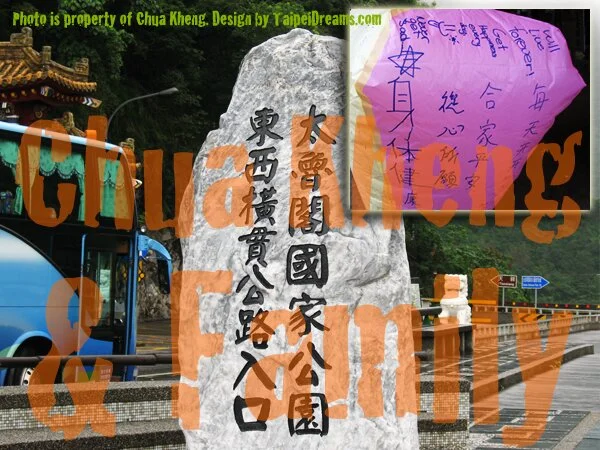 Day 6 – Hualien
16/12/11 Friday
Private cab travel.
1. Shin Kong Chao Feng Ranch Resort.
[rating: 2/5]
Not recommended – I found farm disappointing. Vast areas with only a few animals in poorly-kept condition.
Day 7 – Hualien
17/12/11 Saturday
1. Farglory Ocean Park.
[rating: 4/5]
Although small, Ocean Park had good animal shows. Our little ones greatly enjoyed the kiddy rides!
2. Took train back to Taipei.
Day 8 – Taipei
18/12/11 Sunday
1. Babyboss themed city at Living Mall.
[rating: 5/5]
Babyboss was highlight of the day! Our kids loved it enough to perform six "occupations" in half a day — and still begging to visit Babyboss again!
2. Taipei 101.
[rating: 3/5]
3. Shopping at Ximending entertainment district.
[rating: 4/5]
Day 9 – Taipei to Singapore
19/12/11 Monday
1. 1. Flight from Taipei to Singapore.
I loved my Taiwan tour..
[rating: 4/5]
What a beautiful Taiwan trip with my family!

• Relaxing tour and so freeing — traveling free and easy way!
• Polite and helpful Taiwanese we met.
• Trains were clean and on schedule, making traveling for tourists a breeze!

We covered Taipei, eastern Taiwan. Would be touring the central and southern parts of Taiwan in coming visits!
Want to share your Taiwan itinerary? See how easy it is!