Traveler in Taiwan's concern: Where to stay in Taipei?
Ever wonder: Within Taipei city, which are popular hotel hot spots visitors to Taiwan love to stay in?
Generally, 3 areas within the heart of Taipei city are highly popular with travelers!

• You get a range of quality hotels (varying star ratings) much sought after by tourists;

• You get a good variety of conveniences* and entertainment** in the city!

* Conveniences: MRT (subway), bus..
** Entertainment: Shopping, dining, sightseeing.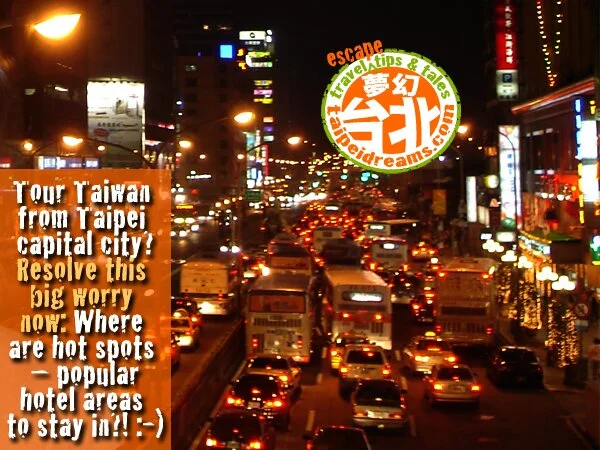 Tour Taiwan – from heart of Taipei city!
How would you like to stay in the heart of Taipei city?
Stay in a hotel to be with the cool, trendy, luxurious of Taipei city life?
Check out these 3 popular hotel spots:
Xi Men Ding
Hot spot highlight: This is an entertainment district alive with youthful zest, a shopping, dining, entertainment haven some has described as Harajuku or Shibuya of Japan.

Tourists stay here for: Moving amidst streetlife nearly 24-hours everyday!
See 10 popular hotels near Ximending here?
Taipei Main Station
Hot spot highlight: This is downtown Taipei city where shuttle buses from Taoyuan airport, High Speed Railway, MRT, railway train – all converge in a hub and location.

Travelers stay here for: City buzz and transport convenience – especially if you are traveling out of Taipei city to the county, or to other parts of Taiwan!
See 10 popular hotels around Taipei Main Station?
Xin Yi Taipei 101
Hot spot highlight: This will be sophisticated and cosmopolitan space of modern Taipei city — a place of business, luxury dining, shopping..

Visitors stay here for: Luxurious hotels with modern city feel and fine shopping, dining, entertainment lifestyle!
See 10 popular hotel around Xinyi Taipei 101 district?
Note: Hotels in these 3 hot spots are in high demand.

You may check out these popular Taipei city hotels to help you plan and book your cosy to luxurious hotel/ motel stay.

Plan to reserve your hotel stay soon — in these trendiest, luxurious, convenient hotel hot spots in Taipei city!
Happy travels in Taipei!