3. Taiwan island weather
Which areas of Taiwan will you be traveling to: Central; North; South; East?
Traveling beyond Taipei city in the North to other parts of Taiwan? On a round the island exploration in your free-and-easy touring? Know the kind of weather you can expect as you traverse the island!

It's quick and easy! Here's how.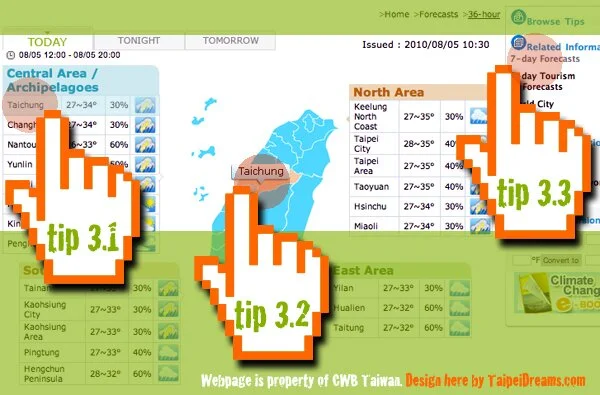 Taiwan's Central Weather Bureau
Open Taiwan's CWB English site, if you have not done so:
At a glance, the CWB index (main) page has the weather forecasts for the counties and cities in all parts of Taiwan.

More Taiwan weather forecast details?
For detailed forecast, either,
• Click on the area name, say, Taichung (tip 3.1) or..
• Point to the area, say, Taichung (tip 3.2) in the Taiwan island map then click it.
Taiwan weather forecast for 7-days?
Oh yes, you can also click on the 7-day Forecasts (as mentioned in point #2) for the week's weather forecast of various parts of Taiwan (tip 3.3).