What is the weather in Taiwan now?
Are you touring Taiwan anytime from now till the year end?
The year end is one of the most popular seasons for travel to Taiwan!
From work and school, many of us escape to a holiday in Taiwan during this last quarter of the year.
One main concern which visitors have (especially those from warmer region of South East Asia) is the weather:

What is Taiwan weather like in these months October, November and December?

What can we expect of the cold season in Taiwan?
3 things you can expect of Taiwan year end weather..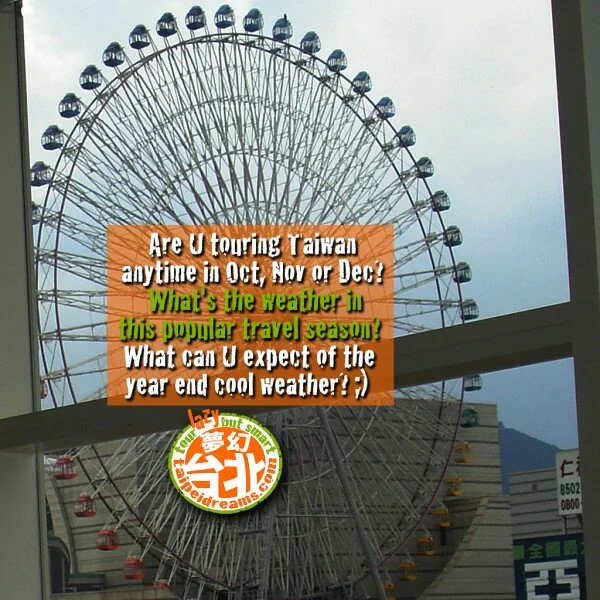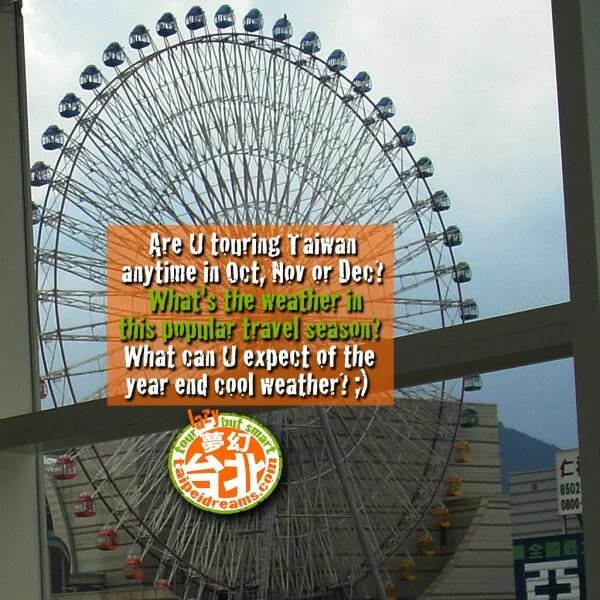 1. Expect cool to cold weather!
What is the weather like in Taiwan during the year end?
As a general guide, the weather is cool to cold:
October: Turning cool.
November: Turning cold.
December: Cold.
2. Expect erratic weather!
Taiwan is going to be cool to cold in the year end.
And yes, the season is known for weather unpredictable:
• Taiwan weather will be hard to predict.

• Meet instantaneous changes in weather.
For example, it might be sunny one moment, then turning windy, then rainy—all through the course of a day!
So expect the unexpected, in today's climatic chaos. And be prepared.
3. Expect rain!
So year end Taiwan is cool and weather is erratic – what can be worse?
Expect rain, dear visitors:
• In higher grounds such as Yangmingshan National Park, expect damp misty air.

• Water will be blown in from the seas into air and land, at coastal areas such as Yehliu Geological Park and Jiufen town..

• Expect rain in all forms where you tour: From steady drizzle to torrential downpour—in a way erratic and unpredicable!
It is a great start, traveler – now that you know what can be expected of Taiwan year end cold season!