4. Taiwan weather in the island's tourist scenic spots
Weather forecast for Taiwan tourists spots you'll be traveling to?
Know the weather forecasts for popular tourist areas! Areas like Yangminshan in Taipei, to Alishan, Yushan, Sun Moon Lake, Longdong, Taroko, Kenting, even Lanyu and others in the rest of Taiwan!

It's really simple. Here's how.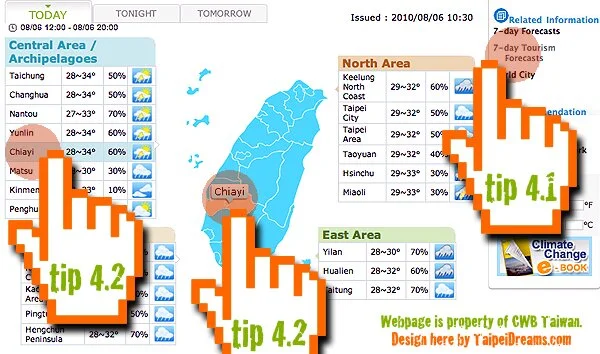 Taiwan's Central Weather Bureau
Open Taiwan's CWB English site, if you have not done so:
7-day's Taiwan tourist areas weather forecast
You can get the week's forecasts in either one way:
• Tip 4.1: On the right menu, see Related Information then 7-days Tourism Forecasts.

Click it for the week's weather forecast for Taiwan's popular scenic areas from Yangmingshan in Taipei, to Sun Moon Lake in Nantou, down to Kenting beach spot around Kaohsiung.

• Tip 4.2: In CWB page, click on either the area name, say Chiayi, or point to Chiayi in the Taiwan island map then click it.

In the new page, scroll down to the Nearby Scenic Area Forecast (tip 4.3). You will see the scenic areas in proximity to Chiayi; Alishan and Yushan, in the weather forecasts.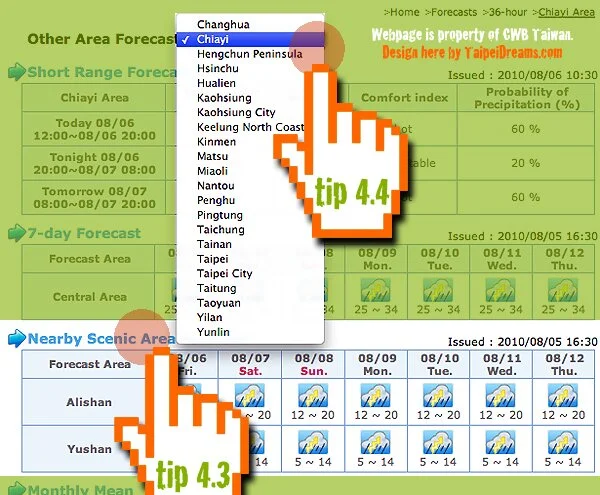 Use the quick list
In this same page, you can also use the list menu to get the weather forecasts for other parts of Taiwan easily (tip 4.4)!