Travel strong – don't miss the fun in your Taiwan tour!
Must we travel equipped like a medical doctor – to enjoy healthy travel?
Of course we don't have or need to, haha! 😉
But as I discussed with my doctor, I stay healthy and strong with proactive prevention and preparation (as much as I can reasonably do).
So when the nasty things happen, I am empowered to deal with it (or help others deal with it) – and get on to enjoying life's moments.
At home or when I travel.
So what are the cool medical stuff I travel Taiwan (or elsewhere) with?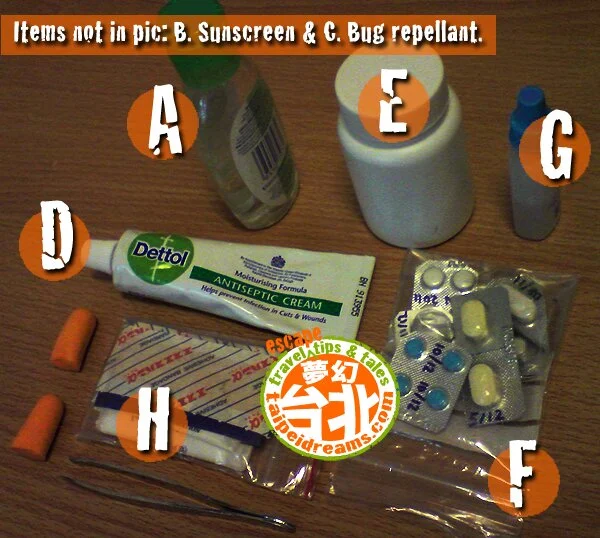 A. Antibacterial sanitizer, hand wash
Wherever you don't have access to clean soap and water to wash, this is the next best thing to keeping clean and staying in good hygiene.
B. Sunscreen lotion (at least SPF 15)
Get the higher grade SPF 30 sunscreens for better protection. Stay protected from the sun, in ALL seasons (yes, even in winter) touring Taiwan!
C. Bug repellant, anti-bug spray
Why let the pesky, even deadly bugs (mosquitoes, ticks, fleas, sandfly and other nasties) bug and ruin your peace of mind – and your Taiwan dream tour?
Here's how to fight blood-sucking dengue mosquitoes when you travel Taiwan!
D. Antiseptic cream
Pack a general purpose antiseptic cream, for the uses are numerous: Soothe and prevent infection in skin irritations, blisters, insect bites and minor burns.
E. Nutritional supplement
Why even boost your health when you travel? Well, why not? If you take them regularly, bring along your multivitamins and other nutritional boosters!
F. Travel medicine
Essential medicine for travel needs includes medicine for:
Gastric troubles, stomach aches and indigestion;
Traveler's stomach and diarrhea;
Pain, aches, fever.
Of course, bring the medicine prescribed by your doctor you're taking regularly.
G. Eye wash, solution
Relieve eye conditions touring Taiwan: From traffic smog in Taipei city, irritants in the environment or air of rural Taiwan, weather temperature and humidity changes from your flight to anywhere in your travel – to sheer eye fatigue!
H. Comfort kit: Ear plugs. Finger plasters. Tweezer.
Ear plugs: Stay sane (!) from unwanted noises: During flight; Taiwan railway train trips; in your Taiwan hotel.
Finger plasters: Fun mix of handy plasters for cuts, sores, blisters..
Tweezer: Humble pair of tweezer effectively removes splinters, unwanted (and painful!) hard-to-see foreign objects from your skin.
Savvy Taiwan traveler, 2 cool tips..
1. For short length of tour, carry only small portions of these useful medical stuff.
Buy and bring the smaller tubes, smaller sizes only. Or you can re-pack some of such stuff into smaller travel containers.
2. In foreign grounds, don't expect that medical supplies are available when you need them.
Why sweat over what you need – when you need them – and urgently? Why not just pack and bring your own?

From this list, what can you pack for your Taiwan trip? Miss out any item?
Enjoy a healthy and happy Taiwan tour!