Time to travel – oops, I mean, taste Taiwan.
Was I so enamoured by my Taiwan snacks I lost my bearing?
See part 1: How our "next best thing to traveling Taiwan" started?
So we had just bought Taiwanese street snack from a food stall in Singapore where we live. How has that brought us into "traveling" Taiwan – in a way we never expected?
We grabbed some free seating. Time to taste Taiwan!
My wife fed me a spoonful of oyster mee sua. Hurriedly I opened the paper bag of tianbula (tempura). Freeing the smell of oil deep-fried, the golden brown tianbula strips, thick seasonings and all..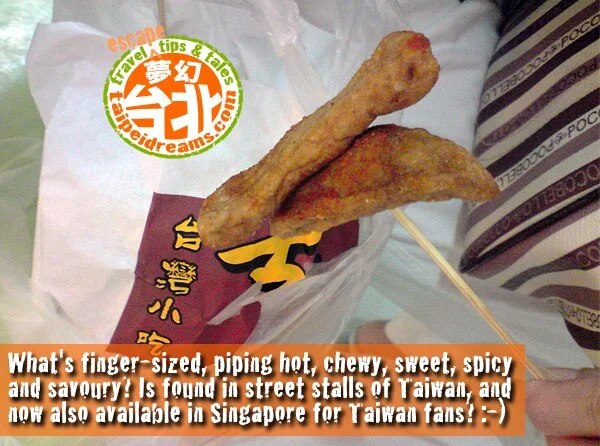 Ahh, the smell of Taiwan again..!
In each bite I tore the tianbula finger-sized strips into two. One piece stayed on the wood skewer, the other chewing in my mouth.
Ahh, the taste of Taiwan..!
Every chew of my tianbula released smell and flavours in a loud combination, bypassing my nose and hitting my brain! There were flavours and tastes sweet, savoury, spicy – all at the same time!
While wife worked on her oyster mee sua, my senses (plus imagination!) went hyperactive.
Ahh, are we in Taiwan now?
My eyes watered.
My vision altering from the tongue-burning tianbula.
In between mouthful of the famed street snack oozing intense Taiwanese feel and flavour, I felt increasingly surreal.

Are we in a night market somewhere in Taipei?

Around us, the shoppers whizzed pass.. Aren't they crowds of diners and shoppers so much a part of the Taiwan night market street life?
The hot and spicy yummy tianbula sent warmth rushing through my body, while the mall air-conditioning kept all cool.
Are we among the Taiwanese crowds bustling and warm? In a wintry day in Taipei?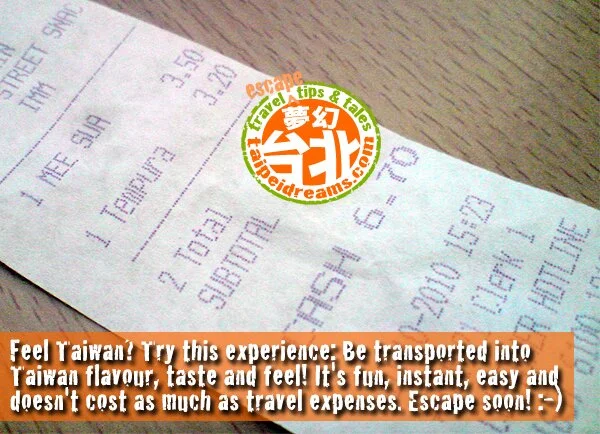 Back from Taiwan to Singapore!
Coming back to reality and our tea snacks, my wife and I joked in sourish vinegar breath that the oyster mee sua tasted appetizing and less scary – with chilli added!
So is this anything like the next best thing to touring Taiwan?

Maybe not, haha! But it was definitely a fun thing we did and experienced. A spontaneous act that transported us into Taiwan and her feel and flavours!

One thing this post is definitely about: Enjoying a taste of Taiwan without leaving Singapore.
Meanwhile, we are invigoratingly engaged with work at home, in Singapore.
Travel overseas to destination near or far is out for us, for now. In our next travel, we will tour more of Taipei city and other parts of Taiwan. Those of you traveling Taiwan this year-end, lucky you!
Still missing Taiwan but can't fly over? Now you know what to do!