Do you dream of touring Taiwan this year-end too?
But you could only dream – yet unable to travel? It's the same here for my wife and I. Sigh..
In this year-end, many look forward to a long-awaited trip overseas, to Taiwan or elsewhere. We last visited Taiwan in November 2008.
For this year, a travel to Taipei, Taiwan is not in the cards for us. Yet in an unexpected twist, I did something.
Something that brought Taiwan to us, and us to Taiwan!
Next best thing to traveling Taiwan?
In a weekend, my wife and I went looking for food. It was tea time. We were among the crowds in the shopping mall.
From specialty restaurants to the numerous food stalls, we searched frantically for something light, simple and quick for tea.
"How about we try this?"
Aha! I had not expected what I just found! My wife agreed and I placed my order..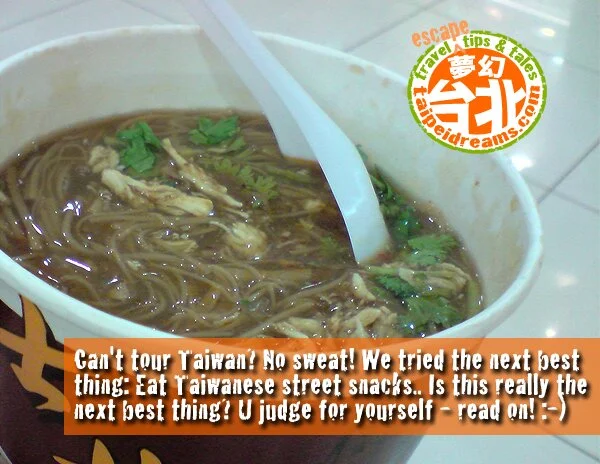 "Do you want chilli with it?"
Auntie asked behind counter, after she had a paper bowl promptly filled from a big pot. I was bewildered. But why not? So I said OK. She lowered the bowl below the counter to add in the chilli..
"Have you been to Taiwan, auntie?"
I couldn't resist. So I asked the serving lady.
Yes, auntie said. I paid, thanked auntie and collected my bowl of (have you guessed it?): Taiwanese oyster mee sua.
Ahh.. I can smell Taiwan – right now!
So you see, we were buying our tea snacks from this franchise stall selling Taiwanese street snacks. In a popular shopping complex among weekend crowds – in Singapore where we live.
We moved ahead to collect our other Taiwan food. A small queue had begun forming.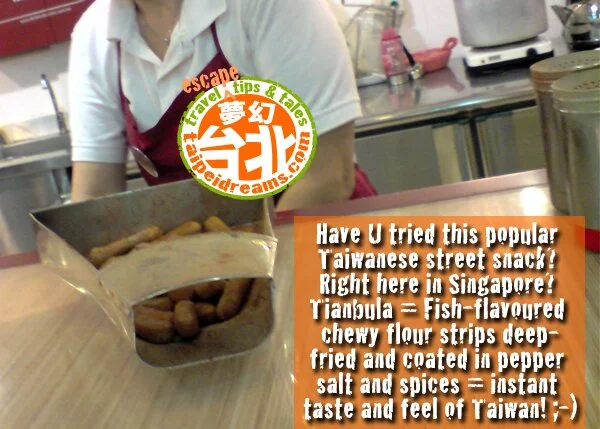 "Pok pok.. Pok pok..!"
That was the unmistakable sound: The knocking of two canisters, sprinkling pepper salt and spices over our piping hot tianbula (tempura) fish-flavoured flour strips!

This other serving lady has hitted the canisters so enthusiastically – and hard!
"Wah, the seasoning has flew this far!"
I exclaimed to my wife while taking a step back. A young lady (she ordered deep-fried chicken cutlet) in the queue heard me and offered a smile.
Travel Taiwan "season" now?
Wow, we were all "showered" with the intense seasoning. Seasonings which "flew" one and half metre away to us!
The happy aunty preparing the tianbula shot me a wide grin.
She certainly knew what she just did. Maybe she did the generous seasoning on purpose, haha? Showered in Taiwanese flavours, we bade the two cheerful service ladies goodbye.