Things-to-do checklist for your Taiwan tour?
Want a checklist to help you manage the tasks to do before you fly out in your Taiwan travel?
Well, for general travel needs, you can easily find one of such checklists in travel sites, covering things to do as you plan and prepare before a trip.
This is our list of pre-trip tasks for touring Taiwan. Things my wife and I take turns to fulfill, weeks to days before our flight out.

Go through the list, check the things to do as you happily pack your bags and spirit for your coming tour. See if any of the tasks may support your travel, whether you are heading to Taiwan, or elsewhere.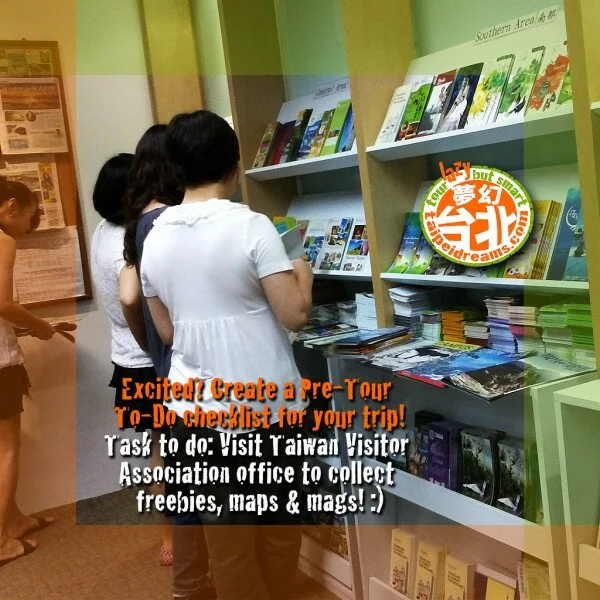 Have you missed out any tasks? The checklist.
1. Notice of absence. Inform family, close friends and business associates of the dates of our absence.
2. Secure copy. Make a photocopied copy of all passports. Store the copy in luggage. Do this for other travel documents like visa, permits and etc..
3. Start fresh. Return all borrowed materials to the public library.
4. Comfort from home. Buy travel containers and prepare, repackage all personal toiletries. See a list of travel toiletry we bring?
5. Dream holiday homework. Research travel information online, guidebooks from library and book stores.
6. Get Taiwan freebies. Visit Taiwan Visitor Association office (address in link). Collect magazines, maps, promotional voucher(s) for freebies..

Update for visitors from Singapore!
TVA office has moved from Shenton Way to Raffles Place. New address is here.
7. Weather check. Get weather forecast online of the destination(s). For weather forecasts in Taipei city, and other parts of Taiwan island, go to the Central Weather Bureau.
8. Confirm again. Confirm via phone or online contact all accommodation, ticketing and other arrangements.
9. Dream tour on hand. Prepare a set of travel notes (itinerary, ideas, maps and etc) for use during tour. Catch a glimpse of our 8-days Taipei planned itinerary?
10. Go looking great! Get our hair and nails trimmed and groomed.
11. Travel strong! Visit family doctor for (any needed and wanted) vaccination and to buy medicine supply. See the medical stuff we brought for our trips?
12. Tools to enjoy. Prepare travel gadgets: digital camera, hairdryer, torchlights, charger, mobile phone and etc.. See our hand-carry travel stuff here?
13. Handy help? Check, maintain our personal emergency medical kit.
14. Work = play. Perform major backup of my "workhorse" laptop. Keep it lean and fit for use on the road!
15. Go fresh! Clean, sun and air all luggage, bags, and winter wear (if they are to be used).
16. Go readily rich. Buy the destination currency from the money changers. Buy bulk of our TWD in Singapore.
17. Tickets to unwind. Buy airline ticket online. Print out itinerary if needed. Budget airline Jetstar needs you to print your own itinerary.
18. Go groomed. Prepare all personal wear, from hat for head to boots for feet and socks for toes (for cold weather that is).
19. Money-savvy tourist. Create simple financial planning for the trip. See where your money go and maximise their usage, before and during touring – even before stepping in the destination!
20. Love the hosts. Shop and buy gifts for friends and contacts in destination place(s).
21. Stay in touch. Call service provider to activate international roaming service for our mobile phones.
Travel Taiwan checklist tips:
1. Pre-tour fun right now!
Performing tasks in this checklist can be part of the tour! Gather the touring members (family or friends) to compile the list together. Delegate tasks to each adult member and kids. Set off the excitement and momentum for all!
2. Not all pre-tour tasks needed.
Depending on where you are visiting, and who you are touring with, some activities are more needed than others. Take the to-dos that you can use, to include in your own checklist.
3. Make the pre-travel checklist yours.
Take these tasks, put them in a time frame, the dates to complete each by. For example, get health vaccination weeks before the tour. Then prioritize the tasks in order of importance or urgency. Add more to-dos you can think of. In a jiffy – you have created a checklist for your trip!
Tour Taiwan soon? Latest update to this post!
I was reading online about reducing travel stress when I came across this good article:
Healthy Family Travel Tips #14 – List It And Forget It – 7 Ways Lists Can Help Reduce Travel Stress
So how important is this Taiwan pre-travel checklist? Like to think again? Read the linked article. 🙂
Also, check out this excellent post Before you leave by OneBag.com!