Are you afraid to travel Taiwan or elsewhere?
We travel in chaotic times, don't we? Where chaotic things happen. When chaotic things happen in chaotic proportions!
Chaotic = Challenging. Crazy. Dangerous. Perilous.

It used to be crime and personal safety we concern ourselves with, when we travel – in Taiwan or elsewhere.

Today, lots more chaos face the travelers: Risky air travel, global terrorism, disease pandemics and wild climatic changes to name a few!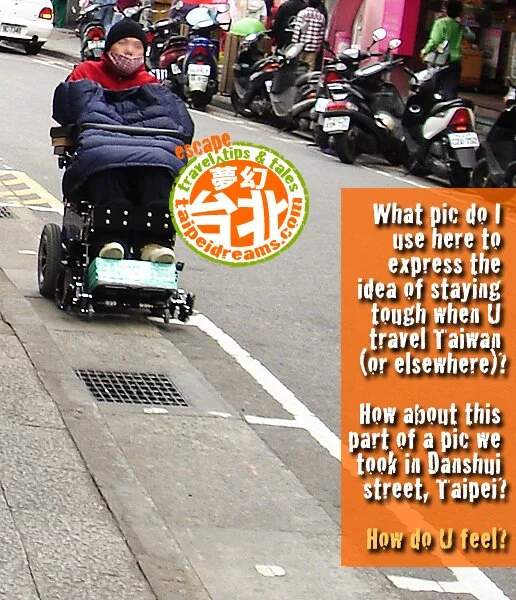 A new travel Taiwan concern!
Months ago, I created a new category* Travel Safety Tips.
For this category*, I planned to pen how-to advice relating to just staying safe when travelling. Now I have to expand the travel safety advice to include traveling amid natural and manmade disasters:
• Manmade situations such as wide-scale food contamination (remember the tainted milk crisis?);
• Natural occurrences such as typhoons, earthquakes, epidemics;
• Social situations like mass protests and social unrest..
Situations that affect the Taiwan locals, and beyond to you Taiwan traveler who visit the island for work and play.
How to travel safe and sane?
What can we do to ensure the safety of ourselves and our traveling companions, and minimize the effects of these crazy times? When we tour Taipei, Taiwan, or anywhere else?
I sincerely believe there is much we can do. Very briefly, we will:
1. Firstly, stay aware of the times we travel in.

2. Take necessary precautions – use common sense uncommonly.

3. Stay updated with information and advice from the relevant authorities.

4. Top up with a positive and resilient attitude. A faith on higher strength perhaps.
What should a traveler NOT do?
As we set our sights and foot traveling, let us not:

• Stay ignorant.
• React with paranoia and immobilizing fear. ;P

Such tremendously trying times test and strain the human spirit. Even at home when one may not be traveling aboard, the gloom and doom can hit one's spirit hard.
Travel Taiwan.. Come what may..
What is the latest alert affecting Taiwan and her travelers?
If there is something of a magnitude that I think requires your attention, you will see it featured in TaipeiDreams.com. As each crisis come and go, we may also look at them here.
* Do you know: A "category" is like a sub-topic. A sub-topic where articles (of the same topic) are organised into. For example, the category "Eat & Drink Taipei Tales" gathers together our stories and pictures relating to food and eating in Taiwan.
P.S. You probably know this: I take much care in making my photos here speak in harmony with what I wrote.
Travel safe, sane and strong – dear traveler!