Tour Taiwan in less luggage fuss!
Are you bagged down with luggage when you tour Taiwan?
When touring Taiwan, you may meet a common travel scenario:
1. You check out hotel to tour another part of Taiwan.
Say, you leave your Taipei hotel to travel to Hualien county for an overnight stay, or a 2-day Kaohsiung city visit – before returning to the same Taipei hotel for a few more day's stay.

2. You check out of your Taipei hotel stay.
Before your departure flight from Taipei, you would check out your hotel at say, 1:00PM.

Then you do your last minute shopping, dining or frantic touring. Before you return to hotel for pre-arranged bus at say 3:00PM, to send you to the airport.
In either case, you will leave your main luggage with hotel. So you can be free to travel on—without the burden of carrying your baggages along!
This is a common practice with hotels and travelers in Taiwan.

Most hotels would allow your luggage to be placed under their temporary care. Some hotels keep your bags in a small room. Others have a small bags deposit corner watched from the hotel front desk.

You would leave your luggage to your hotel care for hours or even a few days!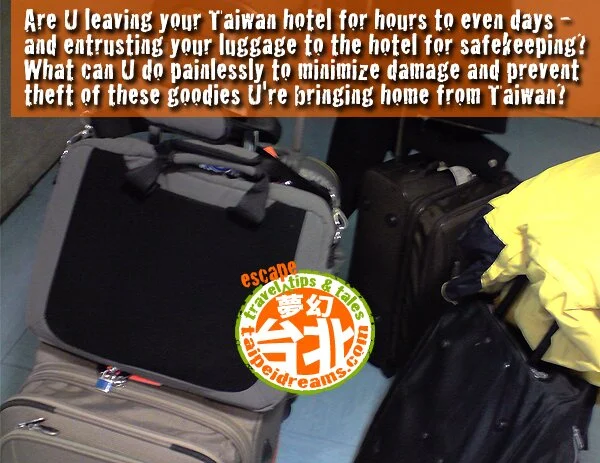 Reduce luggage damage and theft!
Stop before you leave your bags!
Before you hand your luggage to your Taiwan hotel for temporary safekeeping, are there practical—even painless—tips to safeguard what you'll be bringing home from Taiwan?
• Recognize that leaving your luggage with the hotel has its risks!

• Travelers and hotels are accustomed to doing this in Taiwan.

• Keep your luggage intact, avoiding theft or damage!
So secure your baggage painlessly in these 3 ways:
1. Don't leave valuable stuff behind!
Begin with this simple but powerful act of travel savviness: Anything you do not bear to lose—do not leave it behind!
Unless you insist, none of such travel stuff and whatnots is to be left away from you the traveler – when you tour away from your baggage:
• Laptop, electronic tablets and accessories;

• Camera set (especially the kinds loaded with expensive accessories and need specialized bags to carry);

• Portable entertainment gadgets;

• Travel documents and etc..
2. Pack your luggages neatly!
I know, I know it is a lot you're leaving Taiwan with: A main trolley bag, second bag, boxes and more bags all bulging with goodies to bring home.
Nonetheless, pack everything neat and tidy:
1. Messiness invites theft.
At home or in travel, the thief won't choose!
2. It will be quicker and easier for you to tell!
If your baggage have been run through and messed up, you can instantly be alerted, verify any damage and report any loss – when your baggage are clearly organized!
3. Secure your luggage!
First, make sure all bags and carriers are intact. Keeping contents inside (not outside!) them.
Secure your luggage:
Feel assured! Keep your luggage safe to bring home!