Your Taiwan hotel room – 3 tricky issues you must know!
Are you excited to book the Taiwan hotel room for your stay?
Most travelers would be! It is one of the fun part of touring the island Formosa, isn't it?
But wait.
Beware of 3 tricky things in your Taiwan hotel room!

This might not be issues for you—if you are:

• Staying in the hotel or motel room for only a few hours of rest..
• Or staying in a Taiwanese minsu (homestay).

For the rest of us travelers—staying overnight—in our Taiwan hotel rooms, these issues will very much concern us.
And even if you would not mind these issues (you cheeky traveler!)—your fellow tourist(s) likely would!
Really. Don't believe?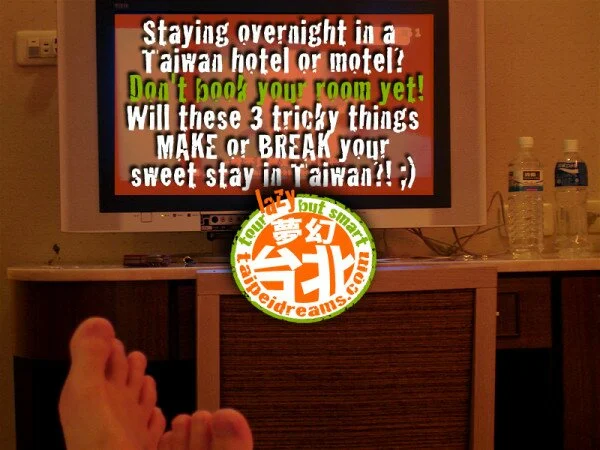 Before you book: Don't be shy to ask these 3 things about your Taiwan hotel room!
1. Is there a window in your Taiwan motel suite?
What is this Taiwan hotel issue:
Space is scarce and expensive in Taipei city and other cities in Taiwan. Motels and hotels often add rooms to increase their revenue.
You might NOT get a room with a window—due to space and layout!
Why this matters to you Taiwan visitors?
Does touring from a windowless Taiwan hotel room disgust you? Yes? Then read this post:
2. What is inside the en-suite bathroom?
What is this Taiwan hotel issue:
What is 1 of the little luxuries you get in the Taiwan hotel you want to book and stay in: Bathtub with shower panel, or jacuzzi bathtub?
Why this matters to you Taiwan visitors?
Do you know: A bathtub (often even a jacuzzi bathtub) is a common feature of Taiwanese hotel highly popular with you tourists!
Often you book your Taiwan hotel stay online via a web site or the phone. Be sure you get what you see in the hotel pictures on the web site electronic brochures!
If you want the extra luxury of a bathtub (with jacuzzi or whatnots), be sure you book the right hotel suite with this feature!
3. Is the door between shower area and toilet see-through? Really?
What is this Taiwan hotel issue:
Inside the en-suite bathroom of your Taiwan hotel room, the door separating the toilet and bath (with bathtub or not) is often transparent to translucent.
You CAN view who and what happen in the bath from the toilet, and vice versa!
Why this matters to you Taiwan visitors?
Your privacy!
Who else will you be sharing your hotel suite with: Family and friends (adults and little ones!) traveling with you? Even a visiting Taiwanese contact?
If the dividing door is NOT opaque to give privacy, then only 1 guest will be expected to use the en-suite bathroom (toilet and or bath) at any one time.
Unless privacy (and decency, no?) is not an issue with you brave travelers?!
So save your sanity before you even tour Taiwan—start with your Taiwan hotel room!