Catch Taipei New Year Countdown romantic and free!
Celebrate in atmosphere most magical—away from Taipei 101:
Away from the celebrating crowds.
Away from the congestion and chaos.
Away from Civic Plaza, Taipei City Hall, or Taipei 101!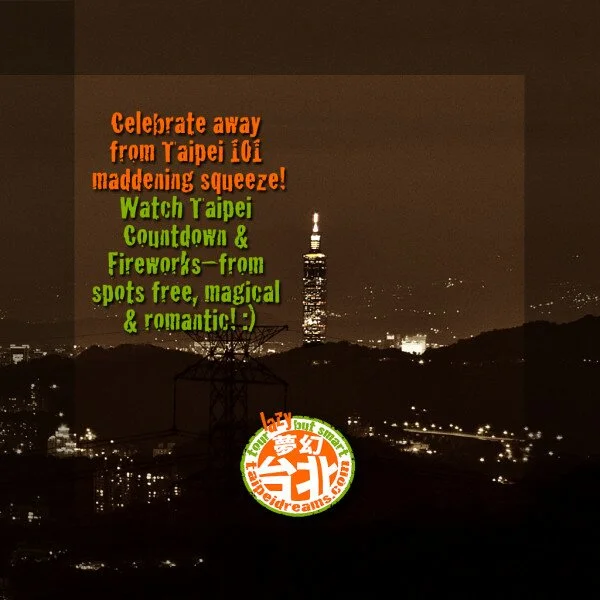 Celebrate Taipei New Year in your privacy?
Are you in Taipei City and wish to celebrate the New Year—BUT not going near Taipei 101 area?
Residents and tourists have discovered a few spots to celebrate and usher in a fresh new year.
These 2 spots around outskirts of Taipei City are:

• Public;
• Free (neither hotels nor restaurants);
• Open and spacious to park and sit;
• Romantic enough for your private celebration!

You watch Taipei 101 light effects and Fireworks:

• In unobstructed, wide panoramic views;
• In picture-perfect black canvas as backdrop (see post picture)!
Pack the wine and snacks! Head down to these spots:
1. Maokong Tea Plantation
Sip tea. Ride the Maokong Gondola. Catch the New Year Fireworks from commanding heights!
• Maokong Gondola extends 31 Dec to 1 Jan ride to 0200AM.
Get there by Taipei MRT:
1. Ride Wenhu Line to Wanfang Community Station, transfer to small bus No. 10.
2. From Wenhu Line to Taipei Zoo Station, then take Maokong Gondola to Maokong Station.
2. Yangmingshan National Park
Soak in the hot spring after your rendezvous at the mountainside behind Chinese Cultural University!
• Enjoy picturesque views from north of Taipei City.
Get there by Taipei MRT:
1. Ride Tamsui (Danshui) line to Jiantan Station.
2. Transfer to bus No. 260 or Red No. 5, get off at Chinese Culture University stop.
3. Walk about 10 minutes.
Cheers to your romantic New Year, traveler!