Tour Taiwan with a fun and helpful TWD travel companion?
Get the Taiwan dollar cheat sheet to enrich your Taiwan trip!
Get a good travel exchange rate cheat sheet! Yes, I know you can get exchange rates for your home currency online, or even as an app in your mobile phone.
Yet why not simply have a free pocket-sized printed cheatsheet?

To see an accurate chart of TWD to your home currency exchange rates!

To be conveniently kept in your pocket (or wallet and purse)!

To let you see and know instantly – how much something in TWD costs in your home currency!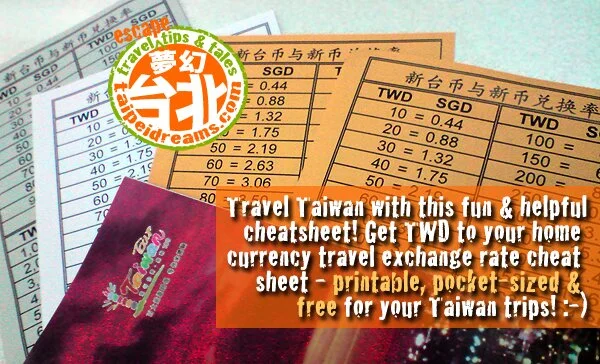 Get your TWD travel exchange rate companion!
For my travels, I customize my travel exchange rate cheat sheet with Oanda.com.
5 steps to get your travel exchange rate cheat sheet in minutes:
1. Go here: Oanda.com travel exchange rate.

2. Choose destination currency: Taiwan Dollar TWD. Choose your home currency.

3. Select Interbank (official) rate.

4. Then click button Get my FXCheatSheet.

Tip: On the cheat sheet page, you can click Reverse FXCheatSheet to see travel rate as you prefer.
5. To print cheat sheet: Either copy it into your word processor or print from web page.
P.S. I never travel Taipei, Taiwan without a copy of this cheat sheet with me.

In fact, I printed pocket-sized copies for my wife, and other traveling companion.

You can even give this travel cheat sheet as a little token to someone traveling Taiwan!
Travel exchange rate note:
As a good guide, this travel exchange rate cheat sheet from Oanda.com gives you the prevailing rates.
Rates on the ground in Taiwan or your home country will differ slightly.
Have fun!