This is a special post by a TaipeiDreams guest.
You can check out the intro page to this special series here.
About Me
Hi, my name is Hazel. I am a 27-year-old Singaporean woman travelling beyond Malaysia for the first time on a wheelchair. A challenge? Not when you can entrust your companions to overcome obstacles and get you to the fun. Oh, maybe the biggest obstacle was to make my boss approve my leave from my IT job, and not withdraw the approval later on! XD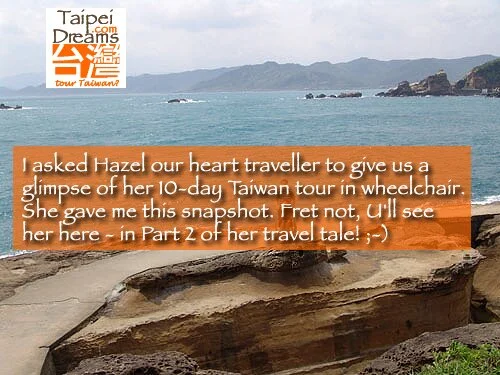 Why Taiwan?
1) Budget.
2) BUDGET!
3) Food!
4) Shopping.
5) Scenery.
6) Ease of navigation. I was only confident of Taipei, but didn't know much about the rest, so I based my trip in Taipei.
Preparations..
1) Flight, place to stay.
2) List of things to bring (I'm forgetful).
3) Find out where's the food and fun.
4) How to get from point A to point B.
5) How much time to get there.
6) How much time to spend.
7) Days to avoid a particular place. I don't want to be ramming my wheels into people every 5 metres, see butts only, or waste time queuing and waiting.
And so, the trip was fixed for 10D9N, 24 Apr – 6 May 2009. Armed with all the research done beforehand, we were ready to go!
Day 1: Singapore -> Taipei by Jetstar
Cheapo me…
Cheapo me pushed my luck by choosing a budget airline. Checking in at Changi airport, the officer offered me a seat change to one near the door. When I boarded the plane, the flight attendants told me I had to check-in my wheelchair. It was the 11th hour, I don't know how they did it, but my wheelchair reached Taipei safely. 😀
Upon reaching Taoyuan airport, I had to rent a wheelchair for NT35 (comes with an airport worker to push it).
Cheapo me decided to take Freego bus to Neijiang hotel. For the infirm, please don't try this, unless your caretaker can piggy-back you via the narrow stairway up the upper deck of bus.
To Taipei hotel, then dinner!
Freego bus dropped us right outside Neijiang hotel. They had a lift and ramps leading to my triple room. The lift and lobby were very narrow, but I was ok since I have help. Room was clean with no odour. Happy!
Dinner was Fei Tian Mala steamboat. Just nice for the freezing weather! I liked the mala soup! But don't dare to take too much because there has been a food poisoning incident in Singapore mala restaurant recently! LOL.
Day 2: Toilet restaurant -> National Palace Museum -> Tianmu
Tiring lunch at Toilet restaurant, Shilin.
We realized we forgot to take maps at the airport. Luckily Ximen MRT station was not hard to find.
Cheery deco at the restaurant. But not fun anymore when I couldn't sit with my legs under the sink a.k.a dining table. The result was a backache after my lunch. The food was so-so lah. Streets outside the restaurant were not very wheelchair-friendly, uneven and could get very narrow at some parts.
Trying to be cultured at NPM.
Next was National Palace Museum. Many tourists, but fortunately not rowdy. Very interesting exhibits! Totally wheelchair-friendly.
Shopping queen unleashed at Tianmu.
Was dismayed to find no cabs at the NPM lobby. Luckily we asked the receptionist, who said she could call one for us, and there was no booking charge! We dropped at the roundabout and walked down Zhongshan North Rd Sec 7.
Shopping wasn't as fantastic as I thought it would be, that is, we were not struggling with bags haha!
Tianmu was not very wheelchair-friendly too. The pavements were uneven mainly because it was an old street and had old trees with big roots.
Dinner was at a Shanghai restaurant near a Hello Kitty shop. Serving for the noodles was quite big, could not finish! And I found out that "dou miao" vegetable in Taiwan was not the taugeh-like (bean sprout-like) version in Singapore.
Cabbed back to hotel. On this trip, we learnt from the cabby that you get discount for calling a cab. So next time should call although there was empty cab right in front of us, haha!
Day 3: Zoo -> Wufenpu -> Raohe night market
Kiasu Singaporeans wanted to be No1 visitor at the zoo.
We took the metro during morning rush hour. I noticed that although people queued, it still ended up chaotic when the doors opened. City people, would be city people.
We reached the zoo just a few minutes after 9am to make sure we could get to see the panda. Free entry for me! Our allocated time had already started, so we rushed to the panda immediately. Actually no need to be so kan jiong (anxious) also, because nobody asked us to leave at all. The pandas were very pampered ley, when the sun blasted, they hid near the metal door and knocked. I think they wanted to go in to enjoy the aircon!
There were kids on excursion EVERYWHERE! I think they had a syllabus for photo-taking. They would hold up the V sign and say "Yeahhh!"
Late lunch at Hu Xu Zhang. Thought it was so-so only ley? Or maybe I'm used to stronger flavours. Got a NT5 voucher for our next visit. How encouraging…
Old shopping queen unleashed at wrong area.
Wufenpu wholesale centre was too trendy for me, but I still managed to get some tops. Didn't get any bottoms because no trying. Got sick of shopping there after about 2hrs because it got repetitive. I felt Wufenpu wasn't wheelchair-friendly with the narrow roads and passing scooters and even a truck.
Went to Songshan railway station to collect all my train tickets. Was told that if I require any special assistance, I should reach the train station 20min earlier.
Live to eat!
Off to Raohe night market for dinner. Tried the hu jiao bing (pepper bun) with long queue, and stinky beancurd which wasn't as repulsive as I thought… maybe bought from wrong stall haha! This night market was my favourite for the whole trip.
Think outside the box, look outside the building.
We took the train to Taipei Main Station and wanted to transfer to MRT, but got terribly lost because we couldn't find the lift to metro station. Ended up finding it outside the station! -_-;;
Day 4: Yeliu, Jiufen, Gold Ecological Park, Gold waterfall, Keelung Miaokou Night Market with hired cabbie
A tour within the tour..
I didn't really plan where to go today, but instead, left it to our hired cabbie as I thought he would have a better idea on how to plan the time and where I could go.
Yeliu Geological park
Our cabbie took us to Yeliu first. Free entry for me again! So windy there! I couldn't get close to most of the rock formations as I had to stick to the pavement. I could only see the Queen's head from afar. But I think that was how it's meant to be admired, from afar to make out the shape! Anyway, I think I was more interested in the seaview than the rocks LOL!
Jiufen old town..
Jiufen was next. Initially, I was afraid that it would be difficult for a wheelchair, but it wasn't as bad as I thought, as all the happenings were on the street with no steps, just that the gradient could get quite steep. The place was flooded with tourists! Couldn't imagine what would have happened if I came on a weekend.
Lunch was bouncy, meaty fishballs. Lots of yummy snacks there, like muah chee, cao zai gao, yu yuan, and a peanut candy wrapped in popiah skin with ice-cream. Why was I no longer a teenager with a bottomless pit for a stomach? Bought a lot of snacks there and from Li Yi Bing Dian since cabbie can help us ferry the stuff back heehee.
The con about Jiufen was I didn't find the washrooms accessible for me.
Gold!
As we still had time, cabbie suggested that we go to Gold Ecological park. Couldn't enter the Crown Prince Chalet. To get to another part of the museum further down, we asked cabbie to drive us part of the way and took a scenic walk under the cool weather.
It was nearly closing when we reached, so we only had time to view the exhibits and touch the biggest gold.
Next was Gold waterfall. Not much water falling at that time of the year. Didn't see any fish in it either haha.
Keelung Miaokou..
While driving to Keelung, we saw Yinyang sea. So, does it count that we had been there? 😛
Keelung Miaokou food street was flooded with tourists, man! I think it had become a must-go already? Wanted to try sea urchin, but didn't dare to eat in case get sick on my trip. We ordered Alaskan crab, but it was horrible! Dry and tasteless! Worse than what Singapore's Giant hypermart has! I wondered if they used it to cook crab soup before serving it to us!
The crab soup we got from another stall was a comforter, very delicious! Didn't eat a lot, as many were seafood stalls and they weren't exactly cheap.
Bought some accessories here, they were cheaper than in Raohe.
Funny countrymen!
Something funny, there were a few people standing there blocking our way. We asked in Chinese "Qing rang yi rang" but no response. Then I heard them speaking Singlish, so I said "Scuse me!" and they sprang away! Fellow countrymen!
Then cabbie took us back to our hotel. Very happy with his service! Enjoyed chatting with him while on the road about anything, could be the places we are going or life in Singapore and Taiwan. Thumbs up!
We went to try out the self-service laundry shop near our hotel. Took us 1.5hrs in all to wash and dry.
Day 5: Taipei 101 and area around it
Day before Hualien..
Luck was on our side. Weather was fine, so we went up Taipei 101 as well as the open-air viewing level. It was really windy!
After Taipei 101, we shopped around till dinner time. We decided on a Korean BBQ in Shin Kong Mistukoshi A9, Liang Ban Jia and were glad we made the correct choice! It was affordable and super yummy! The waitress would cook for you, so goondus (clowns) like us will not undercook or burn the food.
Then it was back to the hotel to pack because we were going Hualien county the next day.
> Travel on to the Day 6 to 10..
< Back to Laugh Or Cry - A Special Taiwan Travel Story For You TaipeiDreams.com Readers!