This is a special post by a TaipeiDreams guest.
You can check out the intro page to this special series here.
Day 6: Zhongxiao Dong Road -> Hualien
No money, no shop!
The weather had been warming up since the day we arrived. Quite warm today. Started out from Green Sogo departmental store. But nothing much ley, all not much cheaper so might as well buy in Singapore. We only ventured slightly further than White Sogo before deciding not to go further because there was not much time left and we didn't want to be too far from MRT when time's up to catch our evening train. On hindsight, should have omitted this leg.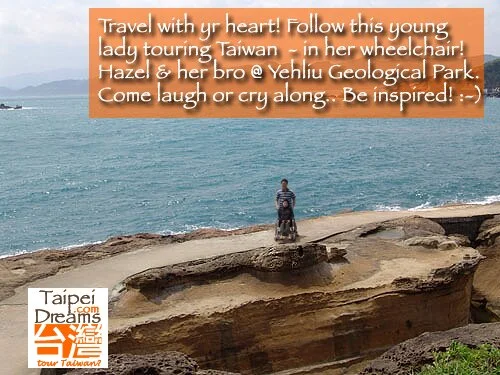 Checked out of Neijiang hotel and left some luggages behind, tied up in the lobby. Like a bit unsafe, but we were not the only ones. I crossed my fingers..
Helpless in Taipei Main Station.
The train ticketing facility disallowed us to change the tickets to the disabled seat. We were advised to ask for assistance from the tourists counter instead. A volunteer led us to the platform, and asked a staff in a room to help us get on the train, but he said no help (???). Whatever. In the end, my brother carried me up the train, which wasn't too hard actually. The volunteer advised us to just take the seats near the door and if someone comes looking for his seat, tell him to take ours (we did the same for future trips). I didn't understand why I couldn't have the disabled seat when it was occupied by the lady selling snacks on the train throughout the journey.
Hello Hualien!
2hrs 8min later, we were in Hualien county! No ramp provided to get off the train, but we managed ourselves. The weather was COLD! It was almost 11pm, but our minsu (homestay), Ocean BnB still came to pick us up. 🙂 Checked into our room on the ground floor, very big and comfy! The owners were so kind as to lend me a stool for bathing. We were so close to the sea that we could hear the boom from the waves. 😀
Day 7: Taroko -> Jiaoxi
Hired touring fun.
Breakfast at Ocean BnB. A fruit "shui weng" was on the menu. Initially I wasn't too happy to see it because I knew it as a tasteless fruit. BUT this one was different, so sweet! How come Taiwan's shui weng is different?? So Singapore and Malaysia's are pirated versions?
We hired a cabbie to take us to Taroko. We set off quite late, nearly 11am I think. He took us to the bento shop to get lunch, where he met another cab also taking tourists to Taroko. He was chatting with them, just took slightly longer than the bento to be ready. The bento shop only provided chopsticks, but we preferred spoons, so he helped us get from the shop next door, which was so kind as to give a whole bag for free! Don't think this can ever happen in Singapore lor haha.
By now, it was raining quite heavily. I doubted we would be able to see anything today and wanted to cut CingShui out, but mister cabbie said it wouldn't rain there. Hmm?
Spectacular Cingshui.
First stop, Small Cingshui. The rain had stopped! WOW! Nice view of the blue Pacific ocean!
Second stop, Big Cingshui. Wa even better lor! We just stopped the car on the roadside, like a bit dangerous hehe.
My wheelchair's challenge – Taroko.
Next, Taroko! Full of Japanese and Korean tourists and their buses! Shall not waste words on Taroko, one should go see it for oneself! The pavement got too narrow at only a few points, so I still got to enjoy myself. It was just hard on my poor wheelchair. Sayang ~
It was already dark when we left Taroko. Cabbie took us to pack some dinner to eat on the train and also to buy muah chee and nougats from Zeng Ji, which was practically on every street!
I liked uncle cabbie's service, but my companions thought he was over-enthusiastic. I think it's up to personal preference. For me, experience is very important, to be able to know where I can or cannot go.
On the train to Jiaoxi, we ate our fish soup, dumplings and muah chee. OMG all so nice! The fish soup was so sweet, dumplings so meaty, and muah chee THE BEST! Should have bought more.
Sio ah! Hot hotspring!
We were going to stay in a hotspring minsu called Pine. They arranged for a cab to pick us up from the train station. I loved the deco! Everything were true to the pictures. The room was very clean, especially the tub which I was very concerned about hehe. Very friendly lady boss, who made sure we were comfortable and even offered us fruits.
It was my first time at a hotspring. The hotspring water at Pine wass like warm bathing water, but I had expected it to be warmer. No kick ley like that. But my skin did become smoother hehe.
Day 8: CKS Memorial Hall -> Gongguan -> Ximending
The world is not fair. Even the birds are different.
Found sakura flowers blooming outside the minsu at this time of the year! Wa bonus find!
The minsu owner gave us a ride to some local produce shop near the train station, where we bought some snacks and breakfast from Yong He Dou Jiang. I noticed that the birds flying in the streets are SWALLOWS, unlike Singapore, only got crows all over haha!
At Jiaoxi train station, while an officer was walking us to the platform, he promised to help us contact Taipei Main station. He also commented that I shouldn't have booked the tickets online. Just come to the train station and they WILL find us a seat. REALLY? But I didn't dare to try such stunt lah, got itinerary to keep to ley.
Back to base.
At Taipei, there really was someone there to help us, although we declined since we were ok. Someone else on the train needed help too anyway.
CKS Memorial Hall.
We went back to Neijiang hotel to drop our stuff and proceeded to CKS Memorial Hall. I just stayed at the bottom, didn't go up. There were sounds of gunshots periodically, wonder if it's for frightening birds?
Gongguan in the day..
Next, we went to Gongguan district. It was early afternoon. Many shops were opened, but unfortunately, many were not wheelchair-accessible. Overall, I felt it was a waste of time to me. Mobile people would probably find it more fulfilling.
Finally taking a proper look at a place we pass by everyday.
Ximending was next. Very hip and trendy! But the things were not very cheap lah, so bought a few items only. When it came to dinner, it was unfortunate many eateries were located upstairs with no lift access. We settled for one of the shops in a row located near Rainbow hotel, selling hua zhi (squid). Turned out to be one of the worst meals we had in our entire stay – URGH! The cooked food was so-so, our watermelon juice and papaya milk was adulterated with syrup and water (I find this unforgivable).
Oh and the police loved to come and frighten the illegal hawkers. So many times!
Day 9: Window on China -> Taipei City Mall -> Shilin -> Longshan temple
To Doraemon Land… Oops, I mean Window on China!
Went to Jingan MRT station to catch the bus to WOC. We thought we noted the bus timing correctly, but after 45min, still no bus. At this time, a cabbie came to ask if we were going to WOC or Leofoo Village, as there were 2 others going and we could share a cab. We agreed, and the couple turned out to be from Singapore too! Fare was NT150 per pax, could be lower or higher depending on the number of people on the trip.
Lots of kids on excursion at WOC! The minatures were very intricate, and Doraemon could be spotted visiting some of them. The rides were targeted on kids and we adults were too tall for them.
Underground shopping!
We were done by about 3pm and caught the bus back to Taipei (half-priced ticket for me!). It was too late to go to Danshui as originally planned, so we went to the underground Taipei City Mall. The wheelchair access wasn't as direct, got to go a big round. Found cheap accessories, happy!
Food! Food!
Evening was spent at Shilin. The food part was smaller than expected. Ate the must-eats, and we were done pretty early at 8pm. Not interested in going for the shopping. Frankly, it didn't quite live up to expectations, especially when we had been to night markets at Raohe and Keelung already.
Straying off the plan.
Still early, so we went to Longshan temple. Walked around a bit, and went all over the place looking for wan gao, but don't know why cannot find. Even ended up at Huaxi night market! Only saw a mi gao zhou, so bought to try anyway. So we headed back to hotel. I happened to look at a food shop near the hotel, and guess what, they sell WAN GAO lor! Everyday pass by yet I never see! ROFLOL! Both the mi gao zhou and wan gao were very yummy!
Day 10: Danshui -> Singapore
Danshui… in the day..
It's pretty weird to go Danshui in late morning, but we did, no choice. We wanted to eat the ah gei at Zhen Li street, but settled for the one near the ferry as it was quite out of the way. Then I was looking for a thirst-quencher, but like no drinks around ley, only got Tian Ren Ming Cha bubbletea, which I never tried because it's more pricey, although it's everywhere. Now no choice lah, so I bought their pearl milk tea. OMG, it was NICE lor! I tried so many, and this was the best!
Nearly the end…
Bought snacks like tie dan, yu su, and some others for bringing back, all very nice! 😀
On our way back to hotel, we dapao (packed to go) Ah Zong mee sua (3rd time!) and bought more Tian Ren Ming Cha.
Our chartered cab arrived on time to bring us to the airport. Bought more goodies. Gobbled the mee sua (didn't expect it to be my dinner), had to pay NT35 for wheelchair again, and off to Singapore.
Home, sweet home!
I was informed that I must pay S$35 for a wheelchair for touchdown at Changi, which I accepted, but it didn't show up. Fed up, my brother carried me instead. I didn't expect this from Changi at all. I didn't know whether it was because I took a budget airline, or it was Changi. Whatever.
Took a limo cab back home. With airport limo and midnight surcharge, it was S$45. OUCH!
Conclusion..
Throughout my trip, I was very lucky to have met no rain, except when travelling to Taroko, cool weather to make the walking easier for my companions. Generally, Taipei is a wheelchair-friendly place, no problem if you have a companion to help with the few obstacles.
I enjoyed it! It has also given me the confidence to travel again, sometime in the future.
> How Wheelchair-friendly Is Taipei, Taiwan? A Tourist's Experience..
< Back to Laugh Or Cry – A Special Taiwan Travel Story For You TaipeiDreams.com Readers!
< Back to day 1 to 5..