Catch Taipei 101 New Year Countdown Fireworks From These Top Taipei Hotels!
Will you be in Taipei City on 31 Dec?
Will you feast your eyes on the grand Taipei 101 skyscraper?

• Sip a glass of wine in companionship of fellow traveller.

• Catch your breathe as Taipei 101 transform into a beacon of lighting effects and laser dance!

• Count down to the New Year arriving in explosion of fireworks!
You can certainly see the breathtaking Countdown and fireworks from hotels in Taipei City surrounding Taipei 101 where the towering grandeur is.
Catch Taipei 101 fireworks and celebrate the New Year—from these hotels: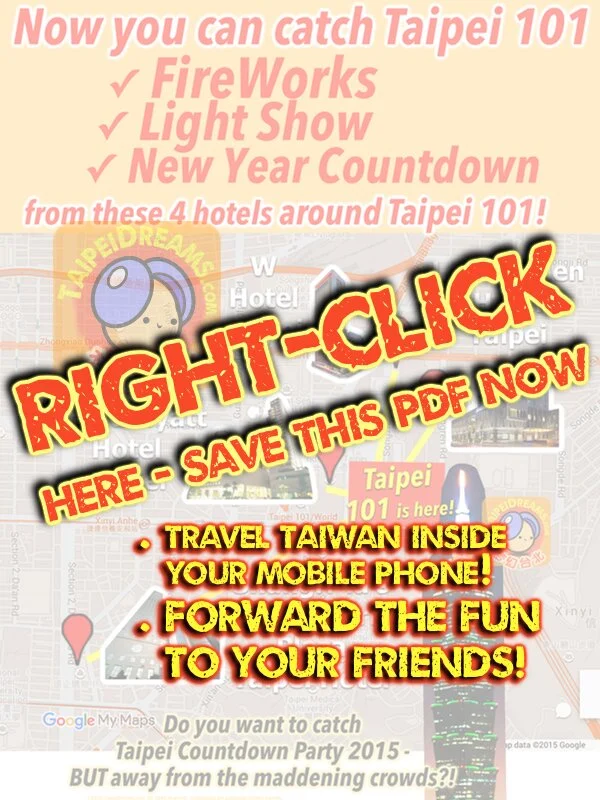 If you really must catch Taipei 101 fireworks, here are 3 top tips!
1. Be sure to ask for hotel rooms to view Taipei 101!
• Some rooms in these hotels have partial to panoramic views of Taipei 101 fireworks. Indicate you are staying for the Countdown event.

• If rooms are unavailable, the hotel may suggest restaurants with equally amazing views for the night!
2. Be sure to book early!
• Although they are priced on the high side, every one of these hotels around Taipei 101 are popular!

• The rooms with Taipei 101 views may be nearly fully booked by late (?) October!
3. 8 other best Taipei hotels nearby!
What if these 4 hotels around Taipei 101 are unavailable?
Then you can also try my other list of 8 popular hotels in the Xinyi, Zhongxiao area, where Taipei 101 is:
Happy New Year, dear traveler!