Ultra travel kit for you ultra traveler!
Tour ultra – tour beyond safe, strong and sane.

Let me show you a do-it-yourself ultra travel kit minimalist, small and essential. Designed for you ultra travelers in your ultra travel. When you tour Taiwan, or anywhere else!
Dear traveler, here's your Ultra Travel Kit: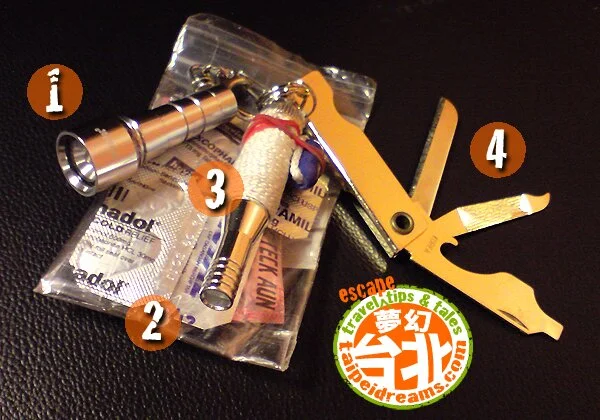 1. Torchlight small with battery
How much can one do – when one can't even see clearly?
So you see (pun intended): Ultra travel kit item first and foremost is a small torchlight – ready with batteries (fresh ones please) for use.
2. Medicine mini pack
Stay strong, enhance your comfort away from home. Pack medicine you commonly use in a small bag. A clear, watertight and resealable plastic bag holds small amount of these medicine.
Essential medicine for travel may include: Panadol (paracetamol) for pain relief. Imodium (loperamide) for stopping diarrhea.
Tip: You can throw in a few pieces of finger plasters. For cuts, sores on foot from walking and endless shopping!
3. Whistle small
This whistle is truly ultra:
Ultra mini: Not longer than a well-used pencil. It has a thin cord for wearing around the neck.
Ultra light: Tough thin plastic body in shiny visible finish.
Ultra loud.
No, not for wolf whistling. Ultra whistle in travel kit is essentially used to draw attention to yourself – in times of duress. Safeguard yourself with a travel whistle.
Special update:
A lady traveler found her whistle critical in dealing with wild monkeys and a trapped train door! Click here to read Jodi's travel-savvy whistle story!
4. Pocket multi tool
Equip yourself with a – small – multi tool. The multi-tool pictured is a small Korean quality Swiss army knife-style item from a simple, inexpensive manicure set. I made the kit shown here for a lady – my wife. She carries it in her handbag. Can you tell the 3 tool-sets this mini multi tool has:
• A small cutting blade.
• A nail file with with nail pick/ cleaner tip.
• A small flathead screwdriver plus bottle cap opener.
All 3 tool-sets fold into a steel holder ultra sized 6CM x 1.5CM! Glossy gold-coated (faux finish only please) steel is a fine touch for a lady to carry and use.
The Swiss army knife multi tool in my ultra travel kit is just as handy. But way bigger in size than this good-looker – and has 13 functions in all! 😉
What makes this travel kit – ultra?
1. Ultra purposeful
Only 4 carefully-selected key items for a multitude of essential purposes – helpful for your travel.
2. Ultra light
You do know the benefits – and joy of traveling light, don't you? So why let your travel kit weigh you down?
3. Ultra handy (small and portable)!
Ultra kit tip: Attach 4 kit items in a keychain. Or mini carabiner. Then clip on your belt. Throw in side pocket of backpack. Pack in waist bag or other handy ways to carry this travel kit – ever ready for use!
4. Ultra affordable!
No, never buy cheapo! While there's no need to get branded expensive items to assemble such a travel kit, know that this ultra kit contains only high quality items not costing a bomb to buy and own! Think ultra affordable!

5. Ultra meaningful!
The best travel kit – is the kit you make for yourself. Or make for those you care for. Even if money is not an issue for you, a travel kit built do-it-yourself style will be as high quality as you want. And catering to your special needs.
Ultra travelers, please note..
You will not be allowed to carry the multi tool or Swiss army knife (see the blade?) on yourself or your carry-on luggage when boarding the plane.
Solution: Pack this ultra multi tool in the checked-in baggage. On arrival at your destination, simply remove it from baggage and attach to your ultra travel kit.
Go tour – with this Ultra Travel Kit NO bigger than your open palm!!