Discover how travelers have toured Taiwan. Show them your trips here!

Get travel ideas to tour Taipei, Taiwan!
Where in Taiwan have you been, or not visited yet? Where farther in Taiwan do you want to experience?
Show them how you traveled Taiwan? Better yet – link your Taiwan travel pages online here (it's easy, see how here) for more to enjoy!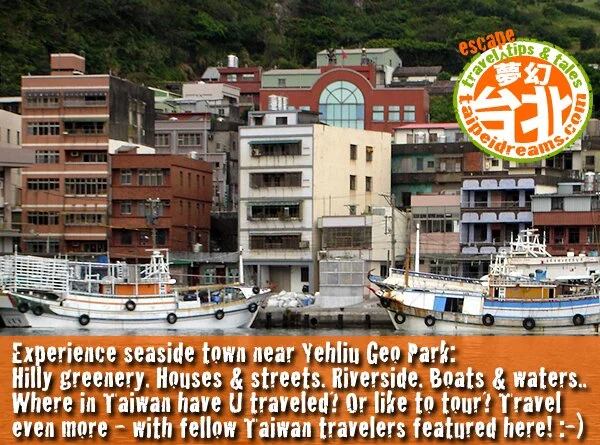 Traveler's stories and tips touring Taiwan's places of interest:
Cely and Hong Kiat from Singapore shared..
Wedding photoshoot, Taiwan (scroll to near end of post).
Fiona and partner from Singapore shared..
Janly from Taipei shared..
Bali (Pali) riverside town, Danshui, Taipei.
Calla Lily Festival at Zhuzhihu, Yangmingshan National Park, Taipei.
Taroko Gorge National Park, Hualien in 3-days-2-nights.
Jessyca shared out of her concrete world..
Lingjiang (Tonghua) night market, Taipei.
Mangka Park (Monga or Wanhua), from the famed movie, Taipei.
Jim and Amber from Singapore shared..
Jade Mountain (Yushan), Taiwan.
Monica and hubby from Malaysia shared..
Tashee Blooming Oasis, Taiwan.
Yehliu Geological Park, Taiwan.
Paul from Philippines shared..
Taipei At Night From Taipei 101.
Peanuts of Singapore shared his hiking adventures..
Xueshan (Snow Mountain), Taiwan.
Yushan (Jade Mountain), Taiwan.
Sflow of Singapore shared..
Carton King in Taichung, Taiwan.
Jingtong Railway Station in Pingxi Town, Taiwan.
Lavender Cottage in Taichung, Taiwan.
Rainbow Military (Community) Village in Taichung, Taiwan.
Tashee Blooming Oasis in Taoyuan. Sanxia Old Street, Taipei.
Sue Zhen from Malaysia shared..
Gold Waterfall. Yingyang Hai (Yingyang Sea), Taiwan.
Keelung Town, Jiufen Town, in summer Taiwan.
Follow reviews – good or bad – with a pinch of salt.
Best still – travel the Taiwan locations for yourself to truly experience them.

Experience Taiwan differently – locations familiar and new.
Where you visit? What you do? Who travel along? What season and time you tour? Enjoy Taiwan immensely!

Travel farther of Taiwan online – safely.
Seek the Taiwan travelers in their pages for help you wish. Visit links in care as our guidelines advised here (ideas 4 and 5).
Why not see your Taiwan tour here?
It's quick and easy to share!
Reach me here with your URL. See how to share your Taiwan travel fun?