Can we extend our Taipei stay?
2 days ago, our nephews both asked my wife and myself if we could stay on longer in touring Taiwan..
The boy's responses were expected, as much as this last day of our tour was a reality expected and inevitable.. We were here on Wednesday the week before. This day was the Wednesday we would wrap up this 8-days trip.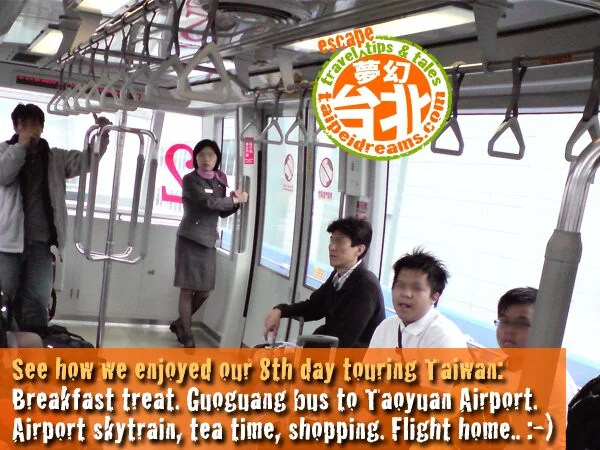 Checking out hotel to head home..
With a hint of reluctance – even sadness – the 4 of us continued ahead in a gusto and beat reminding us of the momentum we toured the last 7 days in. Cool! 😉

Outside Taipei Main Station, we paused in the cool air and views around us.

The boys (and yes, me too!) wanted to sit a minute longer, and savour the last of whatever they (we) could feel of Taipei..
Bye bye Taiwan!
In less than 10 minutes we had crossed the road to reach the bus terminal, bought bus tickets and were queuing at the bay. The bus driver appeared and hurried us – luggages and all, into the ride to the airport.
Maybe he knew our reluctance and was making the departure quicker – and less painful? 🙂
Our star rating:
[rating: 1/5] Yawn! We will pass!
[rating: 2/5] Yeah! We love to tour! :-]
[rating: 3/5] Yippee! We want more! ;->
[rating: 4/5] Yoohoo! We love Taipei, Taiwan! ;-D
Day 8, 26 Nov. Wednesday..
1. Breakfast treat for all.
[rating: 2/5]
I bought instant black coffee from family mart, and 4 cakes from 85 degrees cafe.

2. Final breakfast in Taipei hotel.
[rating: 3/5]
Enjoyed hearty breakfast and cakes in our final morning in Taipei.

3. A gift to buy and give.
[rating: 2/5]
Wife and a nephew finished packing in hotel room while I and the other nephew went Carrefour hypermart to buy a toy train for a little Taiwanese friend we made in our hotel.

4. Packed biandang boxed meal for lunch in hotel.
[rating: 2/5]
Checked out TS hotel 12:50 pm.

5. MRT to Taipei Main Station.
[rating: 2/5]
Refunded EasyCards at MRT station. From Guoguang bus terminal, took Guoguang bus to Taiwan Taoyuan International Airport.

6. Explored Taoyuan Airport.
[rating: 2/5]
In airport, took sky train to Terminal 2 for heavy tea snack of Burger king fast food set meals.

7. Long queue home.
[rating: 1/5]
Returned to join long queue checking in for return flight.

8. Last minute gifts from Taiwan for home.
[rating: 2/5]
Cleared customs and shopped for Taiwanese food gifts at duty-free shops.

9. Return flight from Taipei to Singapore!
[rating: 3/5]
Experienced Jetstar airline's friendly crew service in our 4+ hours flight to Singapore!
Join us for all 8 days star overviews of this Taipei tour!