The day before tomorrow..
We have only 1 full day today and about half a day tomorrow left in our Taipei trip!
Before I could sit down for breakfast and plan out the maximum fun for the remaining tour days, something threatened to disrupt the morning start.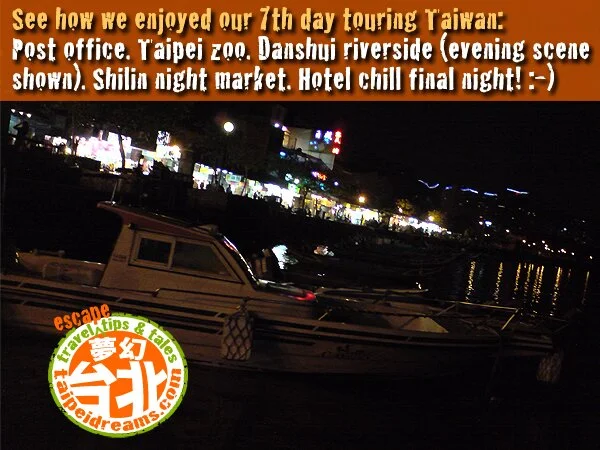 Morning break (down)
Urgh! The coffee machine for breakfast in Tashun hotel has been sent for servicing.
I could not take (3-in-1 type of) coffee with creamer offered, so I went to 85 degrees cafe opposite hotel to get a cup of fresh black coffee.

Sigh, the black coffee tasted weak!

What a start to this day haha! But we would not have our spirits dampened or tour hampered. We would go play further! 🙂
Our star rating:
[rating: 1/5] Yawn! We will pass!
[rating: 2/5] Yeah! We love to tour! :-]
[rating: 3/5] Yippee! We want more! ;->
[rating: 4/5] Yoohoo! We love Taipei, Taiwan! ;-D
Day 7, 25 Nov. Tuesday..
1. Visited postal office in street opposite hotel.
[rating: 2/5]
Mailed a registered article to a Taiwanese contact.

2. MRT travel.
[rating: 2/5]
From Ximen, via Muzha (driverless, small carriage trains) line to Taipei zoo.

3. Quick lunch in zoo.
[rating: 3/5]
Bought microwave-to-eat boxed lunches and fresh coffees for lunch from family mart in zoo.

4. Taipei zoo!
[rating: 4/5]
Experienced zoo's wildlife, taking photos and having our tea snack.

5. Travel by MRT to Danshui station.

6. Evening Danshui old streets and riverside.
[rating: 4/5]
Enjoyed snacking in old streets, games along riverside, last-minute souvenir shopping and took in night scenery at waterfront.

7. MRT ride to Jiantan station.
Once more we would throng Shilin night market.

8. Enjoyed Shilin night market again!
[rating: 3/5]
Bought souvenirs, played games, jostled with the endless crowds.

9. Final chill out time in Taipei hotel.
[rating: 4/5]
Night snack time of bowl noodles and other stuff in last evening in hotel!

10. More packing up in preparation for return flight.