Fine-tuning our Taipei tour ideas!
"Don't look at how many days are left, but rather how much we've enjoyed the days so far."
This was what I shared with my wife and nephews when we landed in Taipei days ago.
For planning purposes however, the days must be counted and the ideas fine-tuned further.

We have 3 days left, to make the most fun out of the planning we had crafted..

We would tour a special part of Taiwan this day: Pingxi railway branch line scenic area. Join us! 🙂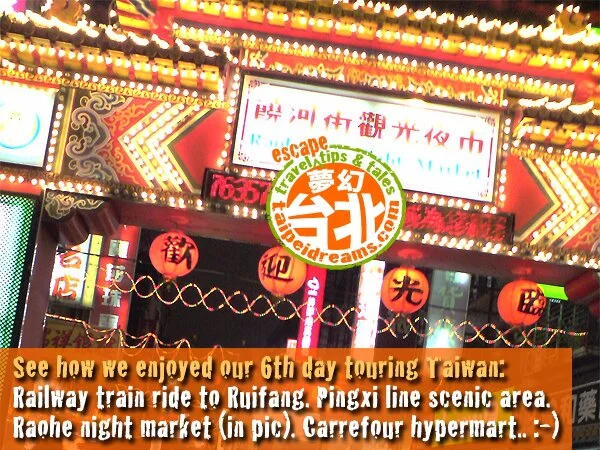 Our star rating:
[rating: 1/5] Yawn! We will pass!
[rating: 2/5] Yeah! We love to tour! :-]
[rating: 3/5] Yippee! We want more! ;->
[rating: 4/5] Yoohoo! We love Taipei, Taiwan! ;-D
Day 6, 24 Nov. Monday..
1. Railway train travel to Ruifang station.
[rating: 2/5]
Bought full-day Pingxi tour tickets.

2. Ruifang railway station.
[rating: 2/5]
Waiting and transferring train to Pingxi route. Long wait – chilly too!

3. Tea time at Pingxi branch line!
[rating: 3/5]
Alighted at Shifen station for tea snack of hot food and drinks.

4. Experiencing rustic Shifen stop.
[rating: 3/5]
Took in scenery of mountains, old streets, railroad neighborhood, souvenirs shops and suspension bridge..

5. Rode train further into last stop of Jingtong.
[rating: 2/5]
Then rode same train back to Ruifang station. Pingxi scenic area was virtually quiet and empty on a Monday!

6. Bought tickets for train to Songshan station.
[rating: 2/5]
Ate and packed snacks at quiet hawker area outside Ruifang station.

7. Travelled in fast train with allocated seats.
From Ruifang to Songshan station.

8. Walked to, enjoyed Raohe night market.
[rating: 3/5]
Ate at street stalls, played games at the streets.

9. Railway train travel to Taipei.
Then transferred to ride MRT to Ximen station.

10. Walked to Carrefour, Guilin, from hotel.
[rating: 3/5]
Bought fruits, bowl noodles, food gifts for home..

11. Hotel chill out time.
[rating: 3/5]
Night snacking and bonding time – tour was wrapping up soon.

12. Packing up.
Started light packing of luggages for return flight home..