A Sunday in vacation!
Day 5 was a Sunday in Taipei.
This day was originally reserved for a day trip out of Taipei to Taichung.
We had already missed out the park-visiting, people-watching ideas planned for yesterday. Looking at our printed itinerary, we wondered..

Where could we join the local crowds on a Sunday outing?

Somewhere new we have not been to before?
Another matter demanded our urgent attention – it was time to find the laundromat and get the laundry done! 🙂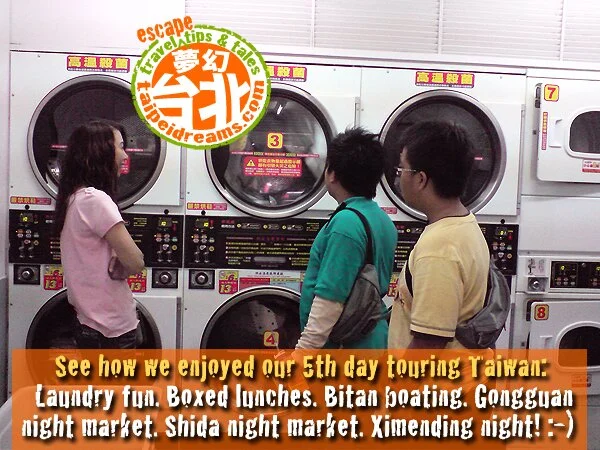 Our star rating:
[rating: 1/5] Yawn! We will pass!
[rating: 2/5] Yeah! We love to tour! :-]
[rating: 3/5] Yippee! We want more! ;->
[rating: 4/5] Yoohoo! We love Taipei, Taiwan! ;-D
Day 5, 23 Nov. Sunday..
1. Laundry time in Taipei.
[rating: 2/5]
Found laundromat and did laundry at self-service laundromat behind hotel.

2. Yummy Taiwanese lunch found!
[rating: 3/5]
Discovered delicious biandang (boxed meal) stall around laundromat area. Bought as lunch to eat in hotel.

3. MRT travel.
Ride to Xindian MRT station for Bitan (emerald lake) scenic area.

4. Sunday Taipei lakeside.
[rating: 3/5]
Enjoyed hour-long paddling boats, tea at waterfront eateries and watching the lakeside action at crowded Bitan.

5. Quick MRT ride.
From Xindian to Gongguan MRT station.

6. Food hunting in Gongguan.
[rating: 3/5]
Ate through night market streets stalls.

7. MRT ride to Guting MRT station.
[rating: 1/5]
Long walk to Shida night market. The nearest MRT station should be Taipower building station. 😉

8. Experienced Shida night market.
[rating: 3/5]
Shopped and ate at street stalls and surrounding shops. Packed snacks back.

9. MRT ride back to Ximen station.

10. Ximending buzz!
[rating: 2/5]
Sat around the buzzing entertainment streetlife and ate snack takeaways. Played games then returned to hotel.