Back to our Taipei touring plans!
Time to go back to the itinerary we planned..
With quite a bit of our tour itinerary altered since our arrival in Taipei, it was time to refer to our printed notes – and get back to what we had meticulously planned!
The weekend has begun. We would get out of Taipei. To the theme parks in the nearby counties of Taoyuan and Hsinchu.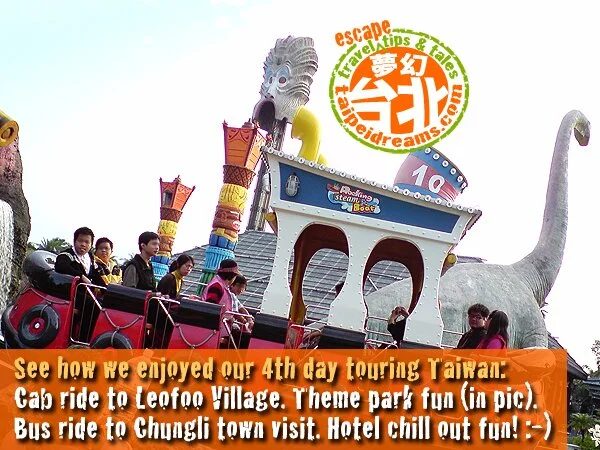 Last minute travel decision
Leofoo village would be closed early!
Cabbie who drove us to Leofoo village informed us that it would be closed early at 6:00+ pm..
So it would have to be a day spent in Leofoo! A visit to Window on China theme park was thus shelved..

In fact, we would soon discover that we could not "cover" all the fun there is in Leofoo village!

We delighted in the fun rides, had tea snacks, rushed through the compact zoo before the park closed! We missed the safari and many more fun details of this fantasy world!
Our star rating:
[rating: 1/5] Yawn! We will pass!
[rating: 2/5] Yeah! We love to tour! :-]
[rating: 3/5] Yippee! We want more! ;->
[rating: 4/5] Yoohoo! We love Taipei, Taiwan! ;-D
Day 4, 22 Nov. Saturday..
1. MRT ride to Jingan station.
[rating: 1/5]
Waited outside station, for E-go bus to Leofoo village theme park.

2. Cab travel from Jingan station to Leo Foo theme park.
[rating: 2/5]
A cabbie arrived to offer his discounted cab fare to Leofoo. About 40 minutes in cab journey chatting with cabbie and fellow passengers a Taiwanese couple.

3. Leofoo theme park!
[rating: 4/5]
Experienced fun rides, zoo and snacked in between..

4. Sleepy bus ride.
[rating: 1/5]
More than 1-hour long bus ride from Leofoo to Chungli railway station!

5. Walked streets of nightlife around Chungli station.
[rating: 2/5]
Ate biandang boxed meals for dinner. Explored and packed street snacks for takeaway.

6. Railway train ride.
[rating: 2/5]
From Chungli railway station back to Taipei.

7. Hotel relaxing time.
[rating: 4/5]
More fun and laughter night snacking and playing cards.