Tired before the touring day begins?
Were we all tired today!
It was just day 2 of our Taipei, Taiwan tour.
We planned to visit Yehliu ocean world, Keelung and Pingxi railway scenic area today.. It would be lunchtime when we reached Keelung. We might not have ample time to explore too many places..

Let us leave out Pingxi first, and play by ear as we go along. Shall we? 🙂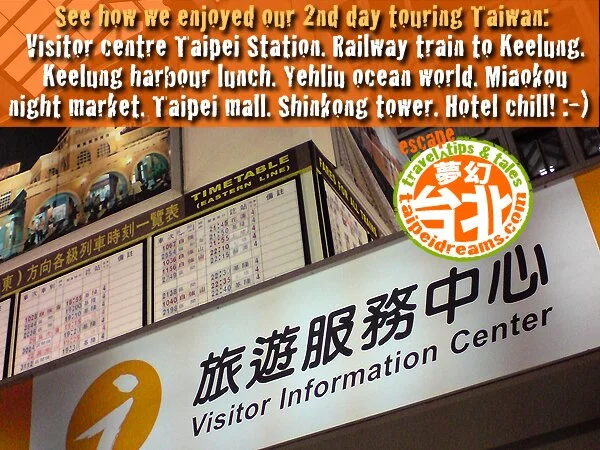 Our star rating:
[rating: 1/5] Yawn! We will pass!
[rating: 2/5] Yeah! We love to tour! :-]
[rating: 3/5] Yippee! We want more! ;->
[rating: 4/5] Yoohoo! We love Taipei, Taiwan! ;-D
Day 2, 20 Nov. Thursday..
1. Day began at 9:30 am.
[rating: 2/5]
Breakfast in hotel.

2. Visitor's centre Taipei Main station.
[rating: 2/5]
Applied Youth travel card tour privileges for our 2 nephews.

3. Our first railway train travel.
[rating: 3/5]
From Taipei Main station to Keelung railway station.

4. Lunch time!
[rating: 3/5]
Ate at Burger king fast food restaurant, Keelung harbour.

5. Bus ride of about 45 minutes.
[rating: 1/5]
From Keelung harbour to Yehliu stop, then we walked into ocean world.

6. Fun at Yehliu ocean world!
[rating: 3/5]
Enjoyed aquarium and dolphin + sea lion + Caucasian diving/ acrobat performances.

7. Bus ride from Yehliu stop to Keelung.
[rating: 1/5]
Alighted around Miaokou night market, out of a stuffy bus!

8. Enjoying Miaokou night market.
[rating: 4/5]
Ate dinner of street snacks, shopped and experiencing Miaokou.

9. Train journey from Keelung station to Taipei.
[rating: 2/5]
Snacking along the return train ride.

10. Strolled through Taipei underground shopping mall.
[rating: 1/5]
Quick window shopping inside Taipei Main station.

11. Shopped from 10 to 1st floor of Shikong life tower.
[rating: 2/5]
We did not check out the basement food court and supermarket!

12. Walked the streets back to hotel.
[rating: 2/5]
A walk of less than 30 minutes through bustling streetlife.

13. Ritual at convenience mart.
[rating: 2/5]
Bought beef cup (bowl) noodles and assortment of packet tea drinks at family mart.

14. Hotel chill out time.
[rating: 3/5]
Night snacking too!

15. Early rest at 1:00+ am.
[rating: 3/5]
We needed that!