Memories of those 8 Taiwan days!
Revisit our Taiwan tour in November 2008 with us now!
Memories stayed fresh in our hearts and minds.
How did we enjoy our 8 days touring the lively city of Taipei and beyond, in the cool year end climate of Taiwan?

Fellow Taiwan traveler, come take a look:

• Our itineraries for the 8-days tour,
• Star rating of how much we enjoyed the touring stuff we did!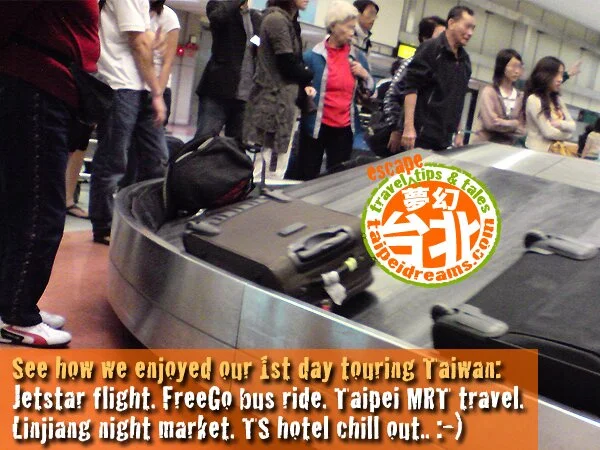 Our star rating:
[rating: 1/5] Yawn! We will pass!
[rating: 2/5] Yeah! We love to tour! :-]
[rating: 3/5] Yippee! We want more! ;->
[rating: 4/5] Yoohoo! We love Taipei, Taiwan! ;-D
Day 1, 19 Nov. Wednesday..
1. Jetstar airlines flight.
[rating: 2/5]
From Terminal 1 Changi Airport Singapore to Terminal 1 Taiwan Taoyuan International Airport, Taipei.

2. FreeGo bus ride.
[rating: 2/5]
From TTI Airport to Tashun hotel, Wanhua Taipei city.

3. Quick Taipei hotel check-in.
[rating: 2/5]
Grabbed a quick comforting light meal at crowded MacDonald's Ximending.

4. First task at MRT station.
Bought Youyou stored value card (Easycard) at Ximen MRT Station for all 4 travelers.

5. MRT travel to Taipei City Hall.
[rating: 2/5]
Walked to Taipei 101. 9:45 pm; observatory closed. Took cab to Linjiang (Tonghua) night market.

6. Enjoyed Linjiang night market.
[rating: 3/5]
Ate street snacks. Packed snacks takeaways. Rode cab back hotel.

7. Chill out in hotel.
[rating: 3/5]
Night snacking and settling in.

8. Knocked out (slept) at 2:00+ am!
[rating: 4/5]
It was chilly at 15 degrees Celsius in our first night in Taipei!
Join us for all 8 days star overviews of this Taipei tour!