"Thanks for your patronage!"
That is what this phrase meant in Mandarin.
But we had not bought anything from this KFC restaurant in Keelung Miaokou vicinity! 😉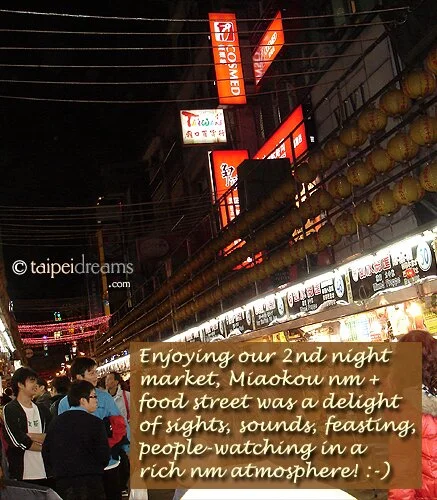 Oops, I need to take a pee..
After hours spent eating-as-we-thronged the popular Miaokou night market, my younger nephew wanted to take a pee.
My wife stayed with the older nephew as they queued for fried chicken cutlet at a street corner. I led the nephew with his urge. We scurried around and located this building housing a 3-storey KFC fast food restaurant.
On our rush in, I noticed that the counter crew had not said a thing nor noticed our entry. Uncle and nephew took the stairs to the third floor for the washroom.
Thanks anyway!
On our way out however, a crew gal saw us and shouted the thanks loud and clear.
While I let go of the glass door closing behind us, I looked at my nephew. We exchanged broad grins, hurrying along to meet the rest of the group. 😉
Fun!
< Back to Conversations Between The Taiwanese People & Us.. List of our 20 exchanges.