See this "nearly missing" TaipeiDreams page?
Weeks ago, I penned a key and important page for you Taiwan travelers.
As a page, it was somehow not released to you over RSS email subscribers. And it's accessed only via a little link on the lower right sidebar here.

Don't miss this quick page!
I've reproduced this nearly missing post here. More visible and public.

Hope you Taiwan travel escape fans will see and appreciate a deep and meaningful part of touring Taiwan – and TaipeiDreams.com.
You can also find this "missing" page here: Care For Them In Taiwan.
Have fun:
…………………………………………………………………
As tourists and travelers, can we care for the people of Taiwan?
In TaipeiDreams.com and EatTaipei.com, I have featured links to non-profit groups in Taiwan. People who are helping the Taiwanese in the welfare of their family, children, disaster relief and etc.
2 ways you can help
1. Get to know these non-profit groups. Like for Eden Social Welfare (linked in TaipeiDreams), I saw their amazing work on TV. You've already started well – by reading here. Know the groups, their causes. Tell your friends. 🙂

2. Help out in peaceful times or in emergencies. Visit their web sites. Reach them. Donate to them. Help them raise funds. I know of visitors who volunteer in disaster rescue efforts even!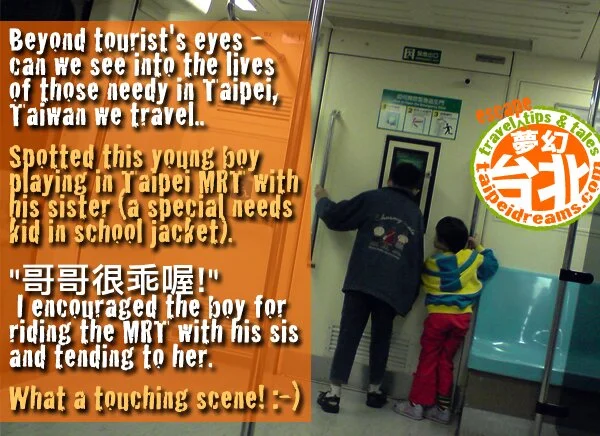 A heart's response
The groups and my web sites do NOT profit monetarily from this free arrangement. I provided these links on my own accord. Why? Simply because these fun web site stuff I created online are all built from inspiration – and to share it.
Thanks, my fellow Taiwan travel escape fans!
Hope my little efforts help further these Taiwanese non-profit helping hands – with your helping heart.
P.S. These Taiwan non-profit groups are linked at lower right sidebar space.

Dave 🙂
Creator of TaipeiDreams.com & EatTaipei.com