Ready to leave Taiwan, tourists?
The luggages were packed. We were ready to check out our Taipei hotel.
What belonged to the hotel was in place. What was ours was secured either in our luggages or a hand carry sling bag.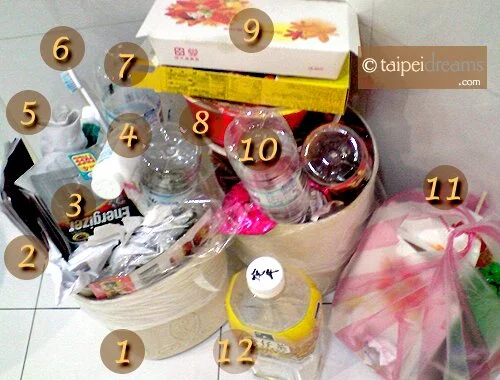 For the final time I surveyed the hotel suite again, as I did when we first stepped in here 7 days ago. This time as I scanned, I packed in the memories – whatever I could salvage, with my mobile phone camera.
Memories salvaged..
Snapping away in the bathroom, I captured a picture of our trash bin.

It is a fact that one can know much about a person by the contents of his or her trash. Can our trash reveal much of our 8-days Taipei, Taiwan tour? Let's see!
What's inside our trash?
1. 1 more bin.
For most of the 8 days, there was only 1 bin in the hotel room. Only towards the final days of stay was another bin given in our room.
Maybe this was a way to encourage guests to reduce their trash. Maybe the hotel finally realized that 4 persons would generate enough trash over 8 day's stay to need an extra bin?
2. Brochures, pamplets and more brochures.
The younger boy enjoyed collecting materials to read from the places we visit. I too took some for use while touring. We do not need extra weight in our luggages, so to the trash the extra reading materials went.
By the way, it might be paper, but brochures and thick pamplets do add considerable weight to your luggages. You who buy books in your travels will know!
3. Used packaging for AA-sized batteries.
Expended batteries were discarded along. We had brought rechargeable as well as use-then-throw AA batteries.
The next time we would bring along less disposable batteries. For one, the rechargeable ones were quite sufficient for usage. Also, we could buy the disposable batteries in Taipei should we really need extra ones.
4. Bottle of medicated body powder.
A mini travel-sized bottle filled with medicated powder was a part of our essential travel toiletries. This was generously used then disposed of. A handful other recycled containers were exhausted of their toiletry contents and discarded too..
5. Paper core of toilet paper roll.
In my email interaction with the hotel when booking our room, I had requested for an extra roll of toilet paper everyday for our stay. 4 persons in a suite certainly had high demand for this extra roll.
Any wonder we needed more toilet paper: Stomach problems were common when I tour.. Besides, our 2 nephews had voracious appetites – each of them ate nearly thrice the portion I ate! Imagine their output – and the necessary paper usage! Yikes! :-B
6. Toothbrush given by hotel – used.
The hotel has quite a complete set of toiletries for the guests. Sets of disposable shaver, soap, toothbrush, toothpaste, plastic comb, shampoo, bathing lotion..
We had about 30% of the toiletries unused in Taipei. So these were packed home for the younger nephew who treasured such little practical 'souvenirs'..
7. Paper box for Xindongyang pineapple cakes.
This was a gift complimentary from the hotel. You see, the hotel had received notice of an impending blackout (electricity disruption) and they started giving out a box of the local pastry to each set of guest as a way of apology.
1. The blackout? It never happened! The hotel called the utility department only to be told that the electricity cut did not take place as announced.

2. How did the gift pastry taste? You can buy a box of this pastry at Carrefour hypermart for about TWD48. You would be a better judge of its taste.. 😉
Still, it was a neat act from the hotel we appreciated!
8. Used bowl of instant beef noodles.
3-bowls-for-1-price pack from Carrefour hypermart. All of us agreed that this instant noodle treat was tasty, a good way to remember Taiwan by. Try it for yourself!
9. Emptied box for biandang boxed rice meal.
This was rice served with meat and vegetable dishes you chose. I discovered the stall selling this delicious meal when exploring the surrounding streets while my wife and a nephew did the laundry in the laundromat behind our hotel.
During our trip, we ate biandang for meals in over 4 occasions, biandangs we bought from the stalls or convenience marts. Taste local, on location – yummy!
10. Empty plastic bottles of distilled water.
In order to keep our nephews and ourselves hydrated, I bought different sizes of bottled water and encouraged the boys to try Taiwanese tea and fruit drinks.
From the fourth day in touring, the nephews and my wife had already developed mouth sores from the cold and drying weather, insufficient sleep and taking "heaty" deep-fried foods. ;-P
11. Plastic bag spilling with last evening's local snacks packing stuff.
As a way of enjoying Taipei, we bought and tried Taipei street eats every evening of the first 7 days. Local snacks had become a big part of our ritual chilling out in the hotel at the end of each touring day.
12. Empty plastic bottle (more than 1 litre) of local black tea with barley.
This one was unsweetened, tasting more like bottled water with light tea and barley taste. I bought this as a way to get the group to drink more water. I took half of this drink while the rest was finished by the older nephew.
The next day, the boy (who preferred much to eat than drink) actually told us that the water intake helped to relieve the inflammation and quicken healing of his mouth sores!
Tales from your trash?
What were in your room trash, before you leave your hotel for home? What memories of your trip could you recollect from the bin items? What stories will they tell?
Hope you had fun – with our trash! The next time you travel – you will never look at your trash the same way again!