Final Taipei itinerary?
See what we dreamed and drafted for our 8-days Taiwan tour.
It was a nimble process planning this Taiwan trip.
From steering away from the maddening crowds when we want to, to making sure the destinations will be lively (yet hopefully, not congested) on our visit.

Overall, spreading the fun throughout our time in Taiwan.
Anyhow, will this final version be a fun-filled itinerary?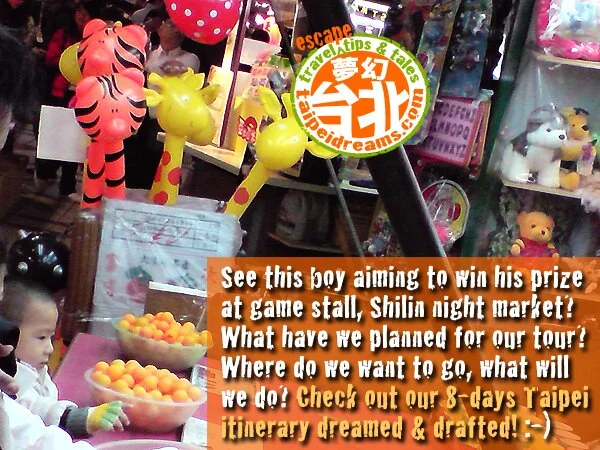 Dive into Taipei!
Day 1 Wednesday
• Flight from Singapore to Taiwan Taoyuan International Airport.
• Coach travel from airport to Taipei Main Station area.
• Check in hotel around Ximending (Wanhua) area.
• Quick experiencing of Taipei 101 mall.
• Shop and snack at Linjiang night market nearby.
Or alternatively..
• Dinner and explore Ximending space near hotel after check-in.
• Buy tickets in advance for HSR and railway train travel at Taipei Main Station.
• Buy fruits and local snacks at Carrefour (Guilin, Wanhua) to chill and rest early in hotel.
Yehliu. Pingxi. Keelung!
Day 2 Thursday
• Railway travel to Keelung station.
• Yehliu ocean world.
• Pingxi railway travel for rustic railway and gold mining atmosphere.
• Jingan suspension bridge in Shifen stop.
• Release sky lanterns in stops Pingxi, Shifen or Jingtong.
• Keelung harbour front and surrounding spaces.
• Miaokou night market.
Out of Taipei to theme parks!
Day 3 Friday
• Leofoo village theme park.
• Window on China (Xiaorenguo) theme park.
People watch. Walk. Shop!
Day 4 Saturday
• Taipei botanical gardens, and/ or Daan park.
• Bitan scenic park at Xindian.
• Gongguan night market.
• Shida market market.
• Taipei 101: 4:30pm day and sunset view. Food court dining.
• Eslite 24-hour Bookstore Xinyi.
• Shopping and people-watching at Shinkong Mitsukoshi department stores. New York New York. Warner Village..
• Eat and experience Raohe night market.
Out of Taipei to Taichung!
Day 5 Sunday
• High speed railway travel to Taichung.
• National museum of natural science.
• Fengjia night market.
• Jingming street if time allows.
• High speed or normal railway return travel to Taipei..
Danshui. Miramar. Shilin!
Day 6 Monday
• Danshui riverfront town.
• Ferry to enjoy Pali left bank.
• Catch sunset at Lover's bridge, Fisherman wharf.
• Danshui old street shopping and snacking.
• To Miramar entertainment park for ferris wheel ride.
• Quick shopping in Carrefour/ Geant hypermarkets.
• Shilin night market for shopping and snacking.
In and out of Taipei!
Day 7 Tuesday
• Taipei zoo.
• Louis amusement park.
• Sun-Yat-Sen memorial hall.
• Danshui to Keelung north coastal highway bus scenic travel.
• Keelung harbourside.
• Miaokou night market.
• Railway travel back to Taipei.
Or alternatively..
• Fulong beach. Eat famed Fulong bian dang boxed meal. Then continuing the rest of ideas from Danshui to Keelung north coastal highway bus scenic travel..
Final Taiwan Fun!
Day 8 Wednesday
• Packing up in hotel.
• Visit morning wet market behind hotel.
• Explore Ximending hub and lunch.
• Guoguang coach to airport.
• Explore shopping and tea snack at airport.
• Return flight to Singapore!
Or alternatively..
• Taipei zoo in the morning till lunch, before we check out of hotel..
More tour ideas to fit in..
Eating..
• Modern Toilet theme restaurant.
• Mingyao department store seafood buffet dinner.
• Mala hotpot buffet dinner.
• Taoyuan street beef noodles.
• 85 degrees cafe.
• KFC fast food Taiwan.
• MacDonald's fast food Taiwan.
• Breeze food court Taipei Main Station
Visiting..
• Taipei underground mall.
• FE21 departmental store.
Other cool ideas we dream for us in Taipei..
• Each day begins at 0800 am. Rest by 1130 pm.
• Breakfast will be enjoyed daily in hotel.
• Whenever we find free time after dinner, we may visit a night market.
• Eating at restaurants will be done spontaneously, when we are in the vicinity or feel to. But eat we will!
Itinerary dreamed and done!
This was the itinerary ideas we planned.
Want to see the actual 8-day Taipei tour we enjoyed?