Relax & laze in Taipei!
Have you seen where we went and what we did on the first 4 days of our 8-days trip?
< Part 1 of our lazy 8 days Taipei tour is here.
So how will you idle away your time touring Taipei?
If you have 8 days for (mainly) Taipei alone, you certainly can take your time exploring the city in a leisurely pace. We did. So here is a look at the last 4 days of our fun Taipei tour. Enjoy! 😀
Day 5. Sunday..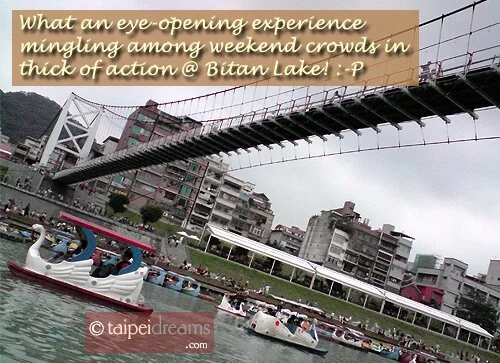 1. 24-hour laundromat: Hour-long laundry tasks at self-service laundromat behind hotel.
2. Bitan Scenic Area: Sunday seaside with the weekend crowds, enjoyed hour-long paddling boats, tea at waterfront eateries and lakeside action at Bitan.
3. Gongguan night market: Ate through streets stalls, enjoyed streetlife.
4. Shida night market: Shopped and ate at street stalls and surrounding shops. Packed snacks back.
5. Ximending: Soaked in buzz, sitting around eating packed snacks. Played in games arcade.
6. Chill out in hotel: Night snacking, enjoyed TV, played cards..
Day 6. Monday..


1. Ruifang station: Bought full-day Pingxi railroad line day tour tickets. Transfer train to Pingxi line.
2. Shifen town: Tea time! Took in scenery of mountains, old streets, railroad neighborhood, souvenirs shops and suspension bridge..
3. Train ride through Pingxi line: To last stop of Jingtong and back to Ruifang station.
4. Ruifang station: Bought tickets for train to Songshan station. Ate and packed snacks outside.
5. Songshan station: Strolled Raohe night market. Ate and played games at the street stalls.
6. Carrefour Wanhua: Bought fruits, bowl noodles, beverages, for chill out, and food gifts for home..
7. Chill out in hotel: Night snacking and bonding time. Light packing up of luggages for flight home.
Day 7. Tuesday..


1. Postal office in street opposite hotel: Mailed a registered article to a Taiwanese contact.
2. Taipei Zoo: Takeaway lunch from family mart. Experienced Zoo's wildlife, took photos and had tea snack.
3. Danshui evening: "Soaking Taipei mood" number 1. Snacking in old street, played games along riverside, last-minute souvenir shopping and took in night scenery at waterfront.
4. Shilin night market: "Soaking Taipei mood" number 2. Bought souvenirs, played games, jostled with the endless crowds.
5. Chill out in hotel: Last evening in hotel. Night snack time and more packing up.
Day 8. Wednesday..


1. Hotel breakfast and treat: Bought cakes from 85 degrees. Final hearty breakfast.
2. Lunch in hotel: Packed biandang boxed meals. Checked out TS hotel 12:50pm.
3. Taipei Main station: Refunded EasyCards at Mrt station. From Guoguang bus terminal, took Guoguang bus to Taiwan Taoyuan International Airport.
4. Taoyuan Airport Terminal 1 and 2: Heavy tea meal at Burger King fast food restaurant. Quick stroll the terminals.
5. Airport shopping: Cleared customs. Bought Taiwanese food gifts.
6. Return flight from Taipei to Singapore! Enjoyed Jetstar airline's fun and friendly crew service in our 4+ hour flight to Singapore!