Free and easy Taipei!
How much can one explore of Taipei in 8 days on a do-it-yourself tour, very laidback, lazy style?
Some claimed that Taipei, the capital of Taiwan can easily be enjoyed in no more than 4 days. Well, this can be achieved if you follow an itinerary of full days filled back-to-back with brief visits to the usual Taipei tourist sights.
But we opted for a relaxed and if you may say – lazy, tour.

We spent 8 days in Taipei. Bringing 2 teen nephews on a taste of Taiwan they have never seen or been to before, while my wife and I revisited places and relaxed on exploring locations new in this trip to Taiwan again..
In each of the 8 days, we checked out a special destination daily. See where we went and savoured in this free and easy do-it-yourself tour.
Grab some ideas for your own tour of Taipei! Enjoy!
Day 1. Wednesday..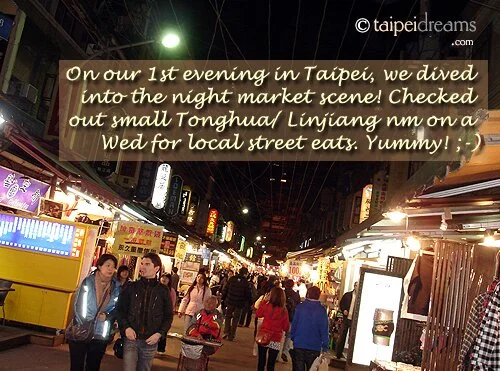 1. Arrival flight: 4+ hours flight in Jetstar airline from Terminal 1 Changi Airport Singapore to Terminal 1 Taiwan Taoyuan International Airport, Taipei.
2. FreeGo bus ride. From TTI Airport to TS hotel, Wanhua, Taipei.
3. Quick hotel check-in. Dined at MacDonald's Ximending.
4. Ximen Mrt station: First task bought Youyou Easycard for all travellers.
5. First Mrt travel to Taipei City Hall. Evening stroll to Taipei 101. 9:45pm so observatory was closed.
6. Tonghua / Linjiang night market: Ate and packed street snacks.
7. Chill out in hotel: Night snacking and settling in.
Day 2. Thursday..


1. Visitor's Centre Taipei railway station: Applied Youth Travel Card tour privileges for 2 nephews.
2. First railway train ride: From Taipei Main station to Keelung railway station.
3. Burger King restaurant, Keelung harbour: Lunchtime!
4. Yehliu Ocean World: Enjoyed underground aquarium, coastal scenery, dolphins + sealions + Caucasian diving/ acrobat performances.
5. Miaokou night market: Ate dinner of street snacks, shopped and experienced Miaokou.
6. Taipei Underground Shopping Mall at Taipei Main station: A quick stroll through.
7. 10th to 1st floor of Shin Kong Life Tower: Quick stroll through this departmental store.
8. Evening street stroll: Walk through bustling streetlife back to hotel.
9. Convenience mart ritual: Bought cup (bowl) noodles and assortment of packet drinks at family mart.
10. Chill out in hotel: Night snacking, enjoyed TV.
Day 3. Friday..


1. Danshui waterfront town: Shopped, ate, played games along Danshui old streets.
2. Short ferry ride. From Danshui ferry point to Bali left bank..
3. Bali seaside: Enjoyed beachfront, tea-time at playground space.
4. Miramar Entertainment Park: Dinner at Geant building foodcourt. Shopped Geant hypermart. Fun ride in Ferris Wheel.
5. Shilin night market: Ate into the night market streets, packed snacks.
6. Chill out in hotel: Night snacking, enjoyed TV.
Day 4. Saturday..


1. Cab travel from Jingan station to Leofoo Village theme park.
2. Leofoo Village theme park! Experienced fun rides, mini Zoo and snacked in between..
3. Sleepy bus ride. More than 1-hour long bus ride from Leofoo to Chungli railway station.
4. Walked streets of nightlife around Chungli station. Ate bian dang boxed rice meal for dinner. Explored streets and packed snacks.
5. Chill out in hotel: Night snacking, enjoyed TV, played cards..
Check out the next 4 days here! > >