Is your Taiwan dollar enough for your travel?
Working and sweating over your budget for traveling Taipei, Taiwan?
Do you know what travel items to include and what other expenses your Taiwan trip may need?
Catch a glimpse: How much in what areas had we spent during our Taipei travels?

In fun quick estimates, get ideas now to help you in planning your Taipei travel budget: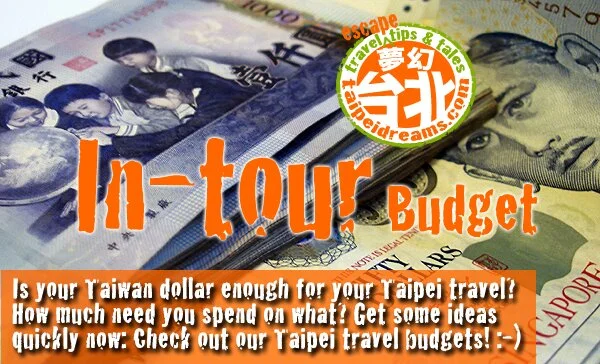 Taipei travel details:
Travel expenses – during – our Taipei tour
In Taiwan dollars, estimated more than actual expense..
Get ideas for creating what and how much you'll spend for your Taipei, Taiwan trip, in TWD or NT currency:
Taipei hotel stay:
1. 7 nights stay with 3-star Taipei hotel near Ximending.
TWD3400 x 7. Total: TWD23,800.
2. Tips for Taipei hotel cleaning personnel.
Total: TWD500.
Shuttle bus fares from Taiwan airport to Taipei city:
3. Return (2 way fare) tickets for 4 adults.
TWD150 x 2 x 4. Total: TWD1200.
Transport (MRT, bus..) in Taipei:
4. EasyCard travel stored value card 4 sets.
TWD800 x 4. Total: TWD3200.
See 3 fun TWD ideas on your EasyCard in Taipei in my earlier post!
5. Transport in TWD cash.
TWD100 x 4 x 8 days. Total: TWD3200.
Taiwan tourist dollar for spending:
6. Meals: Lunch, dinner, snacks.. Breakfast in our Taipei trip is taken in Taipei hotel.
TWD1000 x 4 x 8 days. Total: TWD32,000.
Taiwan tourist attractions entry tickets:
7. Yehliu Ocean world 4 adult full tickets.
Total: TWD1400.
8. Leofoo Village themed park 2 adults full tickets and 2 youth discounted tickets.
Total: TWD3200.
Did you miss Part 1: What we spent before our Taipei trip?