Taipei travel bag and contents!
Take a look at our hand-carry bag. For our Taipei 8-days trip in November, we will be touring Taipei city and beyond – with a unisex casual messenger sling bag.
This day bag carried all the items we think that empower us to enjoy our touring Taipei, yet addressing our concerns for travel safety and well-being as well!

What do you bring along in your travel day bag? What stuff powers your Taiwan travel?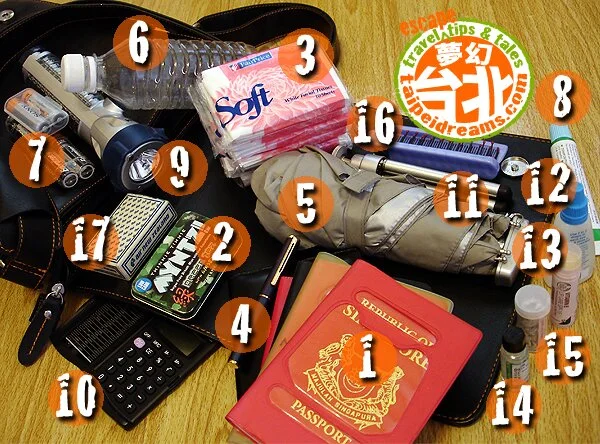 Travel bag items, in order of importance
1. Passports of all travellers. There is a also a photocopy of our passports in 1 main luggage.
Update: I've since discontinued this practice of having all traveler's passports held in 1 bag by 1 person. Why? It is NOT a smart thing to do for travel security! 🙂
2. Ultra-portable mini medicine (tin box) kit! Our special kit containing small quantities of essential oral medicines. From medicine for relieving pain, allergies to traveller's stomach disorders..
3. Tissue paper packs. Mainly for toilet needs.
4. Pen and notebook to capture ideas and notes – whenever inspired!
5. Umbrella compact. One that is ultra-light, ultra-strong, sheltering from sun, wind and rain.
6. Small bottled water. Subsequently refilled with boiled water.
7. Extra AA-sized batteries – both rechargeable and use-then-throw ones, for digital camera and torchlight.
8. Mentolated cream small tube. For relieving pain, itch, insect bites, soothing skin rash (I hate heat rash!) and other skin ailments.
9. Multifunctional emergency torchlight with lamp, blinking alert light, seat belt cutter and glass hammer! Cool tool!
10. Calculator small for thinking work, and figuring money matters like when making purchases.. 😉
11. Mini tripod for digital camera. Keeps camera steady for photo-taking. Also great for capturing portraits of ourselves in camera self-timer mode ha!
12. Eye drops moisturizing wash for tired, dry and irritated eyes.
13. Lip moisturizing and sunblock balm stick (non-greasy with added Vitamin E).
14. Metholated oil (Chinese medicated oil) in mini bottle for pain and aches, insect bites and nausea..
15. Preserved fruit slices in mini container – excellent for giddiness, nausea from travelling or a bloated digestive system.
16. Plastic hairbrush, humble but useful.
17. Mini pack of playing cards for spontaneous game of fun and bonding!
Travel items not shown but essential
18. Sony compact digital camera for capturing memories and inspiration into still and moving images. Camera is carried on me all the time.
19. Small set of travel notes, maps – folded and kept in side pocket of travel bag.
Taiwan travelers take note!
Travel bag check-in alert: When this bag is used as hand-carry luggage for checking in at the airport, it would contain LESS items than listed here. Items such as the emergency torchlight (has belt cutter!) and filled water bottle would be prohibited at airport security.
What travel items power your Taiwan day trips, Taiwan travelers?