"Hi, is there any luggage storage in the airport bus we take from Taiwan Taoyuan International Airport to Taipei city?"

"Will it be a pain to carry our big luggage with the airport buses?"
Taiwan traveler worry: Luggage space?
If not taking the cab, can the airport bus ferry my big luggage?
This is a common concern of travelers to Taiwan: Upon arrival at Taiwan airport, will it be much hassle taking the airport bus with our luggage in tow, to downtown Taipei city?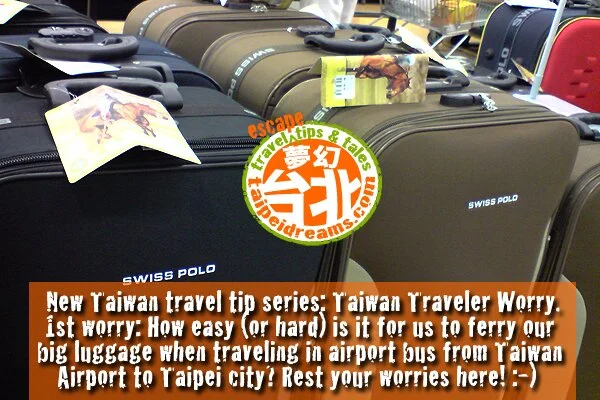 Real Taiwan travel tip: Luggage space aplenty for Taiwan airport bus passengers!
You can rest your concerns, fellow Taiwan tourist.. Here's why:
1. The buses serving commuters from the Taiwan airport are the big tour coaches.
A few are quite new, while others have obviously been well-used. All have compartments to hold baggages from commuters going to and from Taiwan airport.
2. Your travel luggage will go into a luggage compartment the same level where the bus wheels are.
Load your luggage into the compartment by yourself, or the Taiwan airport bus driver (also attendant) will help you. Same too for unloading.
3. The rest of the Taiwan airport bus load?
Passengers and their hand-carry baggage all ride in the seating level of the bus.
Fear not, Taiwan traveler – bring your luggage on-board!