Toiletries for 4!
For our group of 4 touring Taiwan in Nov, what are the toiletry items we bring along?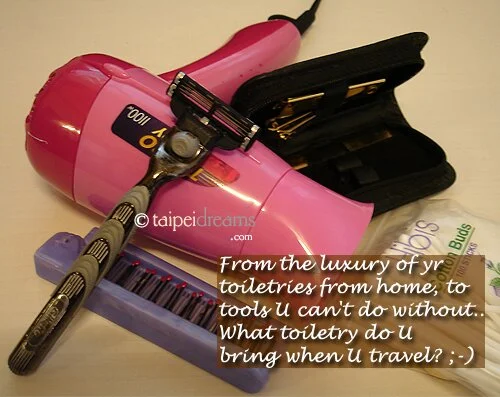 Noting that it will be cool weather (of perhaps 10 – 20 degrees) in November Taiwan, my wife, 2 boy nephews and I have these toiletry needs..

P.S. Actually writing a list like this helps us in getting organized. The next time we are heading for another trip, this list will come in handy. What are your toiletries needs when you travel?
From head to toes, here are the items..
Head
• Hair shampoo.
• Hair conditioner.
• Hair styling cream.
• Hair styling spray.
Face
• Facial wash lotion.
• Facial toner lotion.
• Toothbrush.
• Toothpaste.
• Face moisturizer lotion.
• Eye moisturizing drop.
• Lip moisturizing balm.
• Shaving gel.
• Combs and hairbrushes.
• Cotton buds swap sticks pack.
Body
• Body moisturizing lotion.
• Antibacterial shower lotion.
• Medicated body powder.
Equipment..
• Shaver set.
• Manicure set.
• Makeup set.
• Hair dryer.