How much do you budget for a day travel expenses in Taiwan?
Traveler in Taiwan, do you ever wonder how much Taiwan Dollar you will need for a day's worth of touring?
Will your tourist Taiwan Dollar be enough for your trip?
Some tourists calculate (sweatingly) how much they need for their travel expenses a day in Taiwan, planning right down to the meals and shopping they expect to do..

I prefer not to count my tourist pennies this way. Do you?

If like me, you do not opt to tour Taiwan on an air-tight budget, nor carelessly squandering your hardearned money for your well-deserved Taiwan trip, you may want to take a look at my formula.

My formula is hassle-free and lazy—and works!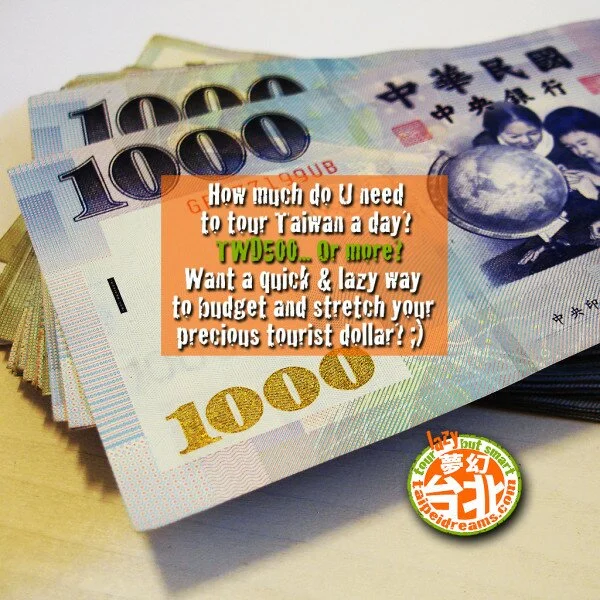 TWD1000 per day per traveler in Taiwan
Yes, budget 1K worth of tourist Taiwan Dollar (TWD or NT)!
This is how you can set TWD1K for spending a day touring the island.
1. Just use this denomination!
• A TWD1000 note is a denomination of Taiwan currency.
• Ready, available, commonly-used. Among locals and tourists.
How much simpler can it get to plan, hold, travel and spend with Taiwan Dollar 1K (see this link) notes?
2. Set aside the big expenses first!
Remember this TWD1K is for 1 traveler's 1 day spending—AFTER you have set aside the Taiwan Dollar for key expenses of your trip, such as:
1. Hotel and accommodation.
2. 1 stored value travel EasyCard for 1 adult = TWD500.
Top up in amounts of TWD100s after using the Card for entry fees, ferry, bus, Taipei MRT, after about 3-4 days. *
See more EasyCard tips – 3 essential Taipei travel expenses!
Check out EasyCard good details here!
3. Shuttle bus fares from airport to downtown Taipei, and return trip.
FreeGo or GuoGuang buses serve this route, at estimated TWD300 per adult return-trip fare. *
4. Fees for transport and activities planned.
Private cab tour, restaurant meals, tour services, and others you planned before your trip.
5. Emergency cash per tourist.
Keep a TWD1000 note. Or as I preferred: 1 piece TWD500 and 5 pieces of TWD100.
This is your "secret" stash of TWD for emergency use ONLY (or final shopping frenzy at airport before departure)!
3 power tips to maximise your TWD1K budget!
1. TWD1K for basics and essentials.
Very quickly, can you see here how a simple TWD1000 per person per day budget can be sufficient—when the key expenses are set aside and accounted for.
2. Free to spend while you tour Taiwan.
Indulge in a freeing tour when you spend this TWD1000 on your touring: Street eating and drinking, tickets, fares for bus and rail, some gift-buying etc..
3. Gather unused Taiwan Dollar to indulge.
Anyway, unspent TWDs are "snowballed" to subsequent spending days.. This will help make any indulgence – whether planned or not – easily achievable!
Have fun, tourists! So budget and tour in Taiwan—TWD1K 1 day!
* These amounts are just guidelines. Estimated in slight excess rather than exact amount of TWD needed.