A Taiwan trip to spend, spend – and spend some more!
Is this not every Taiwan traveler's fantasy?
To have so much extra Taiwan dollars – free to spend in the remaining days of travel in the island?
Or maybe you are among the few budget-savvy Taiwan tourists. Tourists who still have much TWD in their tourist's pockets – after some days traveling.
Surely you won't wish to bring those Taiwan dollar back home?

You know what you want to do with your TWDs: Spend them, yeah!

To make your wonderful Taiwan trip – into a fantastic one! So how do you splurge on your TWD surplus?
Get ready, here are a few fun ways to part with your Taiwan dollar: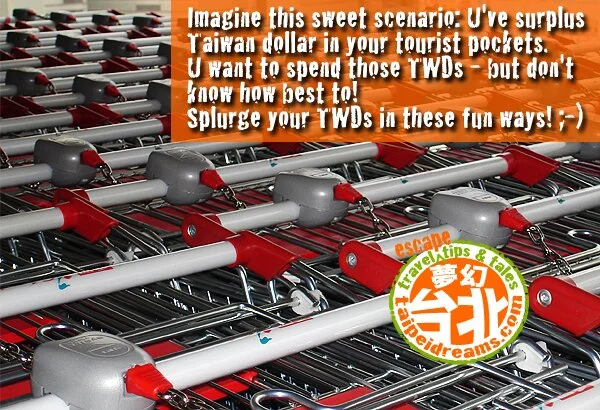 1. Buy Taiwan!
Shop in frenzy, buy on sight!
Grab your buys – on bargain or not! Exchange your Taiwan dollars for:
• Taiwanese products, ornamental and food items;

• Gifts for all, family and friends;

• Souvenirs to bring home for yourself and for others;

• Fashion wear to look gorgeous in Taiwan, and at home;

• And many other buys for tourists you won't need me to tell you!
2. Up your travel transport fun in your Taiwan trip!
Spend generously to experience fun transport within Taiwan.
Where your traveler feet bring you, go buy fun forms of travel imaginable:
3. Taste Taiwan in her restaurants!
Indulge in exquisite dining experiences and Taiwan culinary delights.
Splurge your Taiwan dollar at restaurants:
Upscale dining establishments in classy hotels;

Foreign cuisine restaurants in Taipei city shopping, entertainment zones;

Pay to feast in the various themed specialty restaurants you may have heard of and always want to explore!
Have you not heard of Modern Toilet restaurant in Taipei?
Need more ways to splurge your TWD (or NTD) touring Taiwan? Start with these tips!