1. The television news or magazine program!
Every morning after waking up, I love to surf to the local news channel. Leaving it on as I prepare to begin the day. Letting the room be filled with local language and tv culture for instant ambience!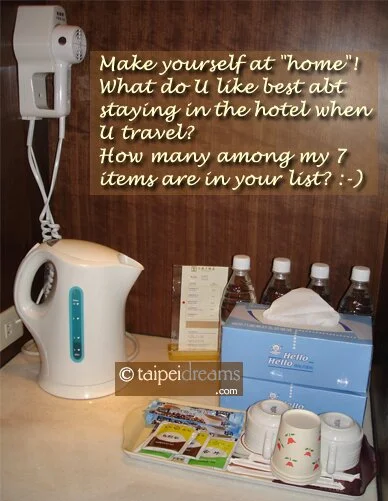 2. Hotel breakfast spread
Only those with a spread of breakfast choices cuts it for me. A breakfast spread, even for a simple offering of no more than 5 food choices – is a little luxury we can pamper ourselves with as we begin each day in a foreign place. A must-have breakfast item will of course be a cup of fragrant (or at least be thick) rich black coffee!
3. The lingering smell of air conditioning
Be it a centralized system or an individual unit in your room churning out fresh smelling coolness or even slightly musky one. Air conditioning is felt keenly and instantly by touch and smell – the moment you step into the hotel and your room.
4. The window, or more correctly – the view outside
Just like a tour is an escape from our regular life, a window in hotel room is much like an escape – a breathing space break if you will, when one is in a tour. What kind of views lies outside the window is not as important as much as having a window that opens to an exterior view.
5. The television
Plus all the programming in it. With or without a program list, you get a sense of anticipation and discovery (what a kick hehe!) exploring the myriad of channels. And of course, the relaxation that comes from chilling out and tuning into the reality (fantasy actually) dishing out from the google box.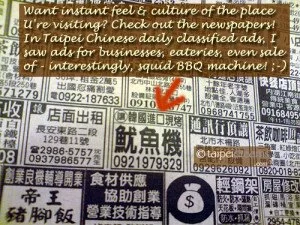 6. The local newspaper
For news, entertainment, keeping in touch with events from home and the outside world, reading the local papers instantly offers you an open door into the culture of your hosting place – local and regional.
7. All of these things listed here
Step inside the en-suite bathroom. From within, look out to scan your temporary den (read: comforting mess). What do you see? You see the combination of these little pleasures of hotel stay.
In that moment you know you are away from home – in a little haven you have created (somehow). A home away from home. A haven away from – yet in the midst of – your chosen destination.
What are the things you like about your travel hotel? Things that instantly transport you to a culture and country not your own?
Happy travelling!